Photo credit: F. Scott Schafer
By Malcolm Venable


Peter Bergman of The Young and the Restless shares some external traits with cosmetics heir Jack Abbott, the character he's played for more than 30 remarkable years. Both are polished men of good taste, and you'd never see Bergman or his character on Instagram having a beer in flip-flops. But offscreen the father of two who's been married for more than three decades could not be less like the womanizing, enemy-destroying, and chair-hurling Jack Abbott.

Outside of the fictional Genoa City, Bergman enjoys a drama-free life that prioritizes physical fitness, family gatherings, and, of course, preparation for Y&R. His three Daytime Emmy wins for the role—and an unmatched 23 nominations for outstanding lead actor—solidify him as one of the best of all time.
"I'm the most grateful actor you will ever meet," Bergman says of his 2022 Emmy nomination. "The Emmys have been very kind to me in the past, and I'm very excited about going this year. It never gets old—23? That's a crazy number! I look at it as my peers in the industry saying, yes, he's one of the good ones. That feels really nice."
Watch The Young and the Restless weekdays on CBS and streaming on Paramount+.
SUBSCRIBE NOW: Enjoy 4 Digital Plus 2 Print/Digital Issues Of Watch Per Year — For Free!
Men of Good Taste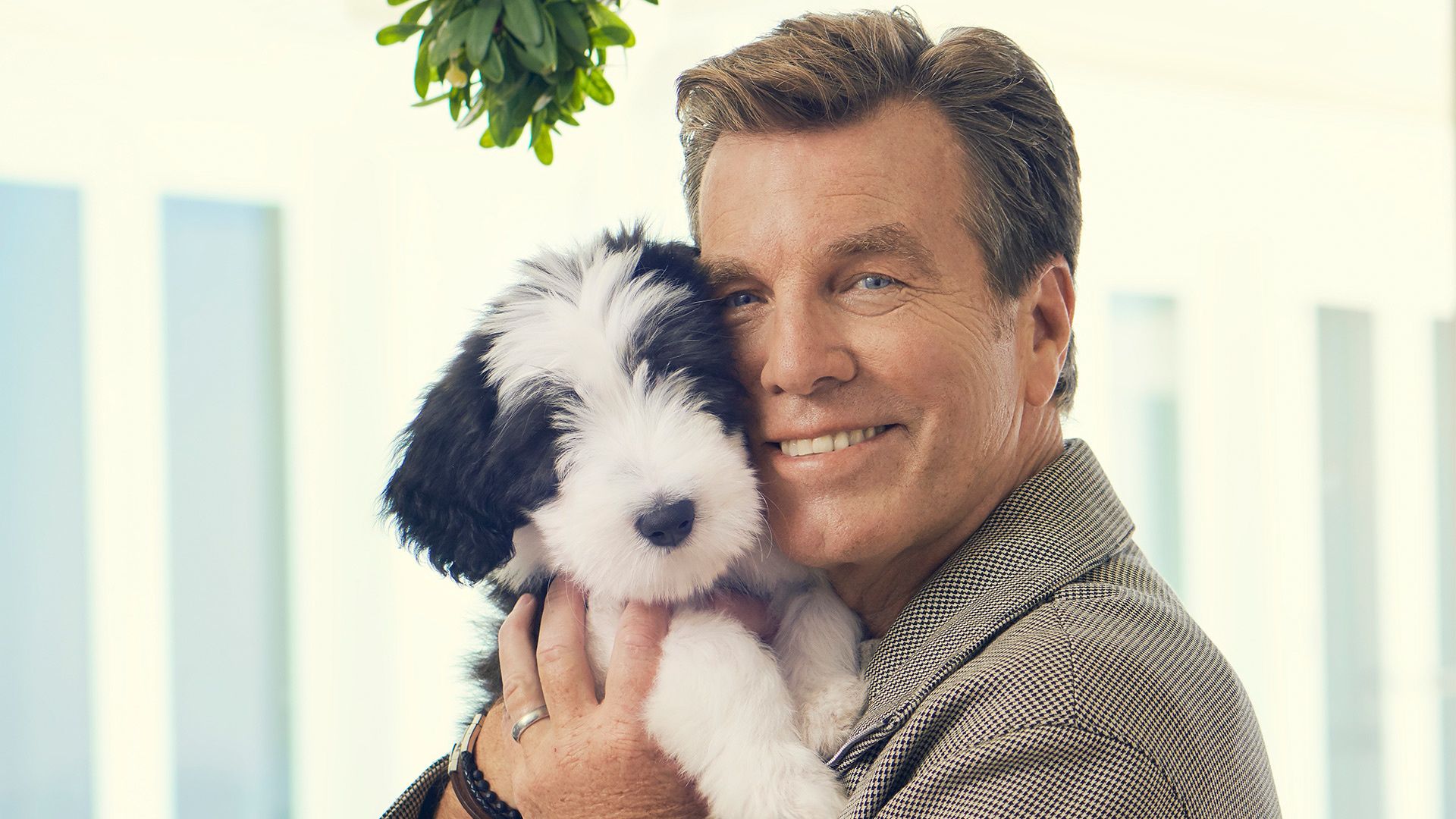 Jacket by Sandro. Sweater by AllSaints. Watch by Omega.
F. Scott Schafer/CBS 2019 @ CBS Broadcasting Inc. All Rights Reserved.
Bergman joined Y&R in October 1989—a date that's never far from his mind because it coincided with monumental life changes that still inform the gratitude and discipline with which he approaches every moment on set and at home.
Tell us about how you became Jack Abbott.

It's an extraordinary tale of how it happened. When [the role as Dr. Cliff Warner on] All My Children came to a sudden end in 1989, it was pretty bleak. My wife was seven months pregnant with our second child. We had just bought the apartment next door and blended the two. I was heartsick. My agent said, "The Young and the Restless wants to know how tall you are. Should we call them?"
I said, "Do they have something to offer me?" They called again and said, "We'd love to have him come [to Los Angeles] and audition for a character." I said, "What character?" They wouldn't say. I blew them off again. But my wife's pregnant. I've now been unemployed for just long enough. So they sent me the script and it was two scenes: Jack with his father, and Jack and Jill. It was great.
At the time, I was on the cover of every magazine: "Peter Bergman gets fired." Melody Thomas Scott was traveling in Canada with her husband, Edward J. Scott, the executive producer of [The Young and the Restless], and she had a magazine in her bag. She turned to Ed and said, "That's Jack Abbott." So that's how it started. Was he tall enough? Isn't that wild?
Three Decades of Jack Abbott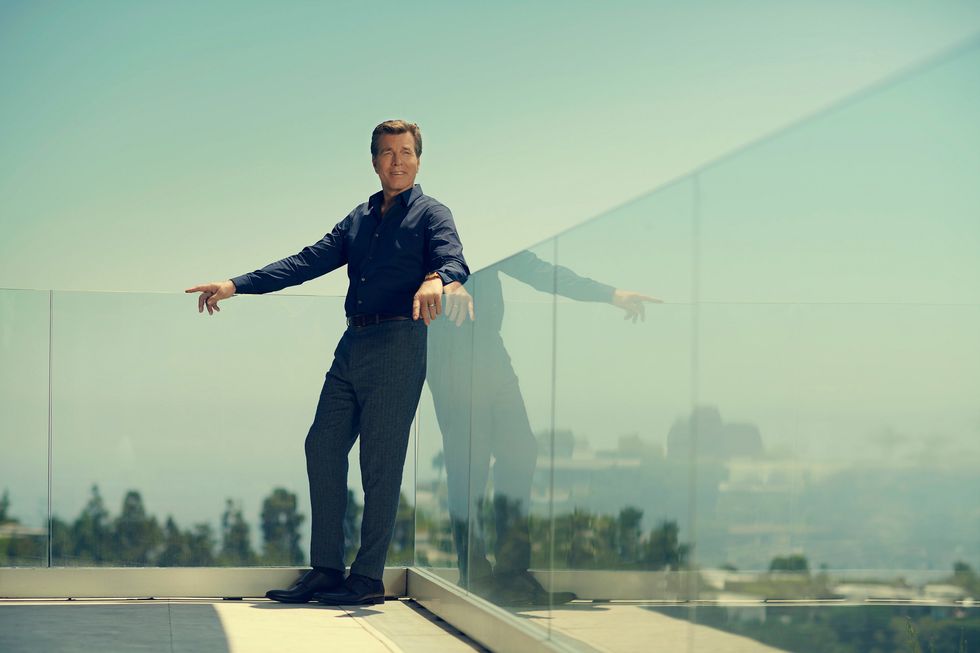 Shirt by Theory. Pants by Billy Reid. Bella and socks by Hugo Boss. Shoes by To Boot New York. Bracelet by Jonas Studio.
F. Scott Schafer/CBS 2019 @ CBS Broadcasting Inc. All Rights Reserved.
It wasn't long before fans and critics took notice of Bergman. In fact, he earned back-to-back Emmy wins in 1991 and 1992 for his work on Y&R.

You're now in your 33rd year as Jack. What's on your mind?
One of my favorite memories is the first year I won [an Emmy] for The Young and the Restless. That was a crazy and exciting time. It was the No. 1 rated show in America that week, and the following day, I was getting on the bus in New York City when a police officer stopped me to congratulate me. It was just a unique experience. I had been on the show for about a year when the first one [Emmy win] came. Then, the second one came the following year. That was a giant surprise and a wonderful time.
I've been very fortunate. Every day I have been here, I have given them my all. I go for broke every single time.
Workout Routine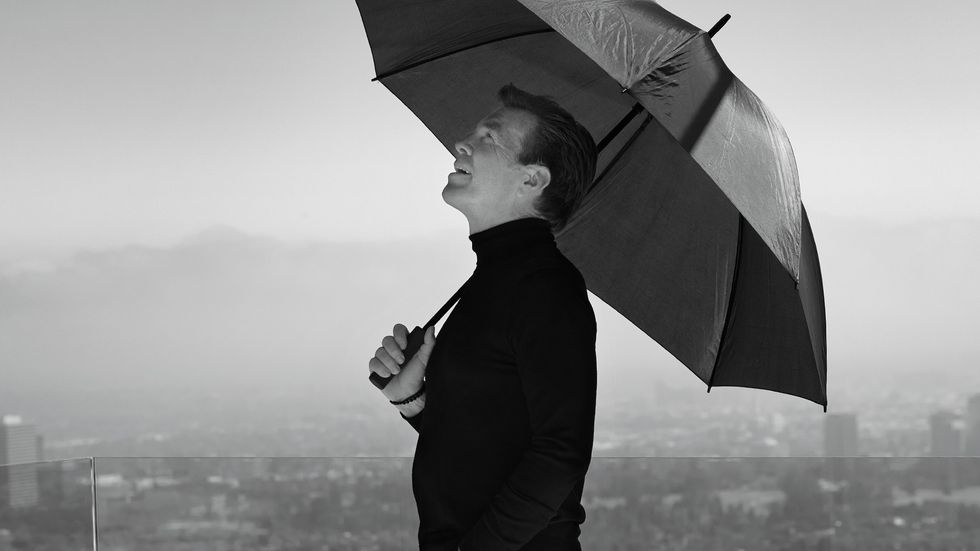 Turtleneck by Sandro.
F. Scott Schafer/CBS 2019 @ CBS Broadcasting Inc. All Rights Reserved.

How do you get into character?

People make a little fun of me in the morning. We come in at 7 in the morning, and your job in that first half hour is to get in makeup. I go down there fully dressed. I'm already halfway Jack ad then I wrap myself in it. It's not a switch. It's a gradual exercise.

What do you do before you get to work? What's your pre-work routine?

Before I get here, I have already broken a sweat. I get up very early. I start the morning with some yogurt, a banana, and I get my exercise ... [maybe] a spinning class.

You're in great shape.

I was a runner for 28 years. I ran the New York City Marathon in 1983, and I didn't stop running until my knees gave out a couple of years ago. Some, I crawled over finish lines, but I survived them. Running was a great calming influence for me; it slowed me down. I'm not going to be best remembered for my relaxation skills!

I tend to be a busy person, and I have chores and things and lists I want to get accomplished. You can't get anything accomplished when you're out running. I was not one to listen to music while I ran, so my brain would just turn off.
Hidden Talents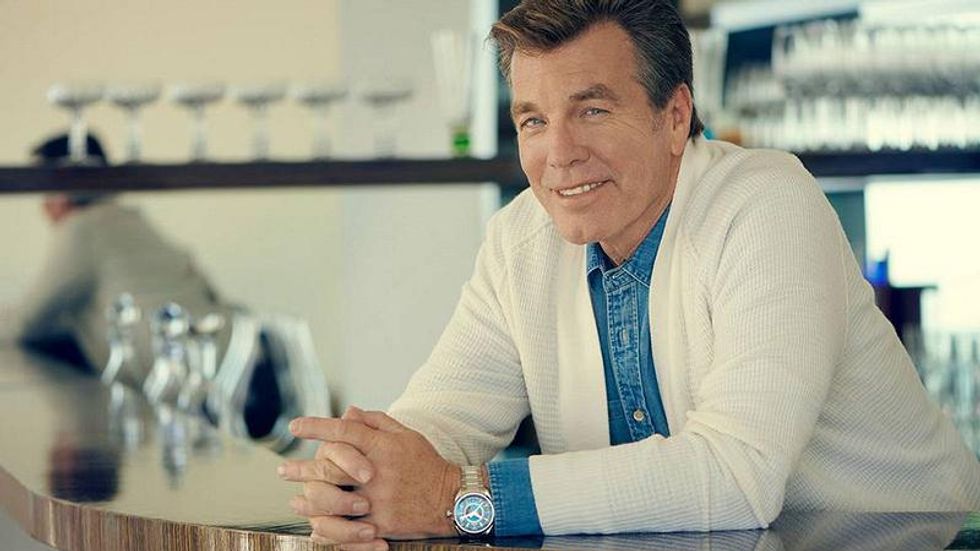 Shirt by Frame. Sweater by O.N.S Clothing. Watch by Omega.
F. Scott Schafer/CBS 2019 @ CBS Broadcasting Inc. All Rights Reserved.
Speaking of music, we know you're a gifted pianist ...

I definitely wouldn't call me gifted. No one here knows I play, but it's one of the great joys of my life. I started when I was 20 years old. I was in New York at the American Academy of Dramatic Arts, and there were rehearsal rooms upstairs with pianos in them, and I sat down at the piano and started fiddling around with it. I've always been a musical person; I like getting lost in it. I had sung in countless choirs before and played the clarinet as a kid until junior high school. I had been in rock bands.

I learned at a pretty critical age that discipline comes naturally to no one; discipline is something you learn. People develop discipline. So in my 20s, I started disciplining myself to sit at a piano and play those scales to get where I wanted to get. I practice probably four days a week. At Christmas, with my extended family, at some point I play and we all sing Christmas carols.
Conflicted Character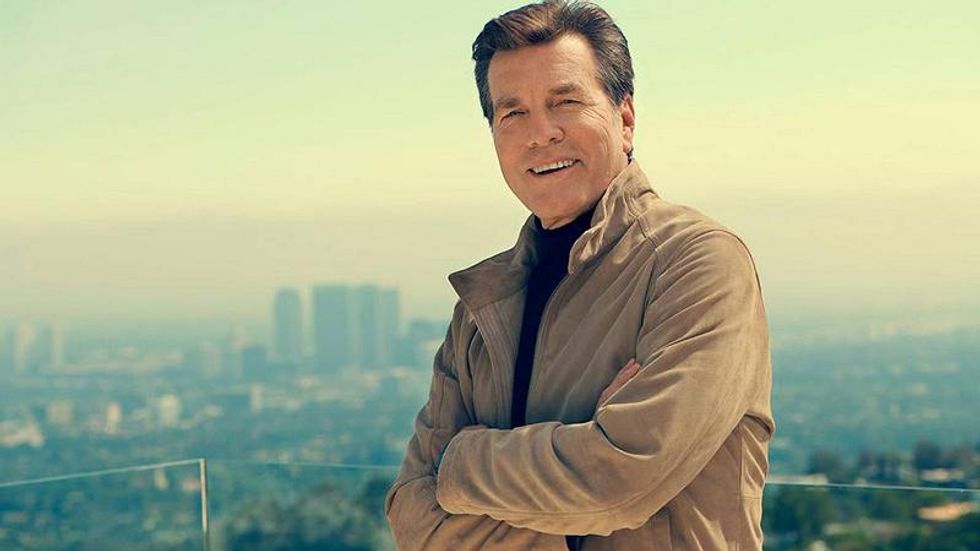 Jacket by Brooks Brothers. Turtleneck by Sandro.
F. Scott Schafer/CBS 2019 @ CBS Broadcasting Inc. All Rights Reserved.
Let's talk about Jack Abbott. He's so complicated. Do you consider him a good guy or bad guy, and what parts of Jack have you incorporated into yourself?

I think he's a conflicted guy who wants to be a good guy. His mom walked out on him at a very critical time—he was a 15-year-old guy with two little sisters, and it changed his life. Just went crazy. He got very selfish. He broke his father's heart more than once being a cad, being thoughtless, being a real prick. Jack learned something from all the women he was with too: Nikki was something he could not ultimately have, and she was with the man Jack has just pure loathing for. He's everything Jack doesn't like: He's a bully; he's new money. Jack learned empathy, patience, and kindness from that marriage. Phyllis—from the other side of the tracks—is a grifter, a manipulator, a tough cookie. Phyllis was the next giant, giant chapter for Jack because it was delightful to see somebody who was exactly who they said they were, unapologetically herself, and that was intoxicating to Jack, who never had that absolute assurance of who he was. Sharon was a brief marriage.

But each of these women brought more depth to Jack. Underneath, there is still a guy screaming at the stars for his unfortunate luck. He's never been lucky in love; he's a damaged man because of his mother. Now she is back in his life and he can't scream at her; he can't tell her what she did to him. He has to look out for her. Talk about a complex! I spent a lot of my life thinking or feeling, "Is this jealousy? Am I still carrying around anger?" I ask all these questions of myself. "What am I feeling right now?" Jack doesn't have that problem. Jack knows exactly what he's feeling and he acts on it. He's gotten in a lot of trouble, but I've learned that from Jack, and I tried to take on more of that in my own personal life. You know what you're feeling; trust it. You know what this is: You're pissed off at this, so say you're pissed off. Jack's good at that, and I'm growing to be better at it.
Great Performance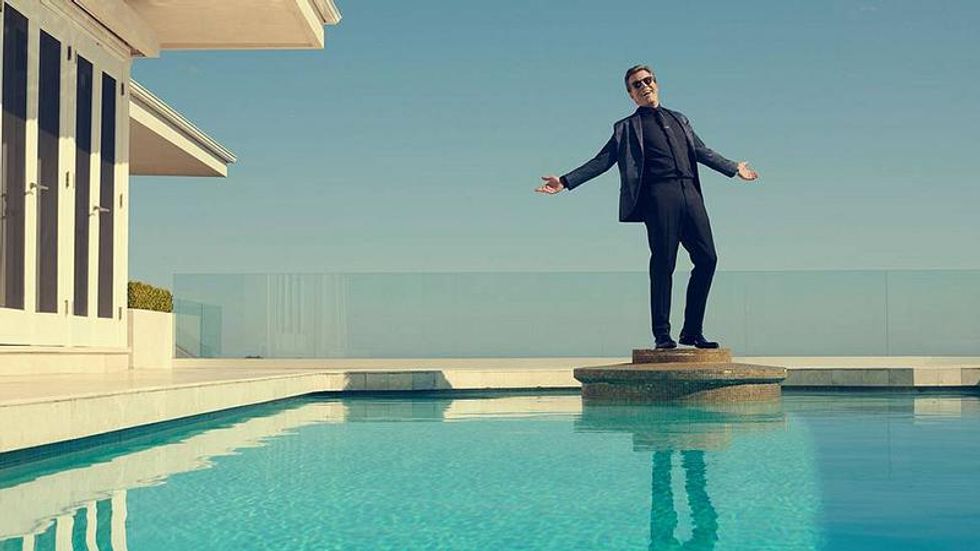 Blazer by John Varvatos. Shirt by Theory. Pants by J.Crew. Shoes by To Boot New York. Tie by The Tie Bar. Tie bar by Jonas Studio. Sunglasses by RayBan. Pocket square by Drake's.
F. Scott Schafer/CBS 2019 @ CBS Broadcasting Inc. All Rights Reserved.
You're a man of classic tastes and traditional values. I couldn't find any social media profile for you. Why's that?

I have no social media presence. I was too old for it when it happened, and a guy my age suddenly going on Twitter to sell myself just sends out all the wrong messages. My son and daughter are in their thirties. I ran all this stuff by her. She said, "Yeah, it gets a little creepy."

I was so determined that my kids were not going to be in this business that I didn't bring them around for the glamour moments, because if that's all you see, why wouldn't you be an actor? They didn't get to [hear] my friends crying on the phone, friends with incredible résumés who can't get an audition for something they know about. My kids wouldn't see that; they'd see just the glamour, so I didn't introduce them to this. So I've never done any of that.

I also have held very strongly to what I owe CBS, and that is a great performance. I come in and I pick [scripts] up as soon as I get in the room. I can't wait to find out what happened to Jack. I don't ask the writers to tell me what's going to happen. In fact, I asked them not to tell me what's going to happen so that when I open these things, I find out. I love doing this. My job is to make [the material] as good as I can make it and go home and have a completely separate life. I have a life at home with my wife and stay in touch with my family, and that's important to me. Those are two different things.
Extraordinary Role Models

Turtleneck by Sandro.
F Scott Schafer / CBS 2019 @ CBS Broadcasting Inc. All Rights Reserved.
What do you think shaped you to be the man you are professionally? Did you have models for how you saw yourself as an actor?

I had extraordinary role models. James Mitchell [on All My Children]. What a terrific man. He had considerable success as a dancer, as a Broadway actor, as a film actor. He knew jobs don't grow on trees. He knew that you don't come to work unprepared. David Canary ... it was just stunning the work he did. When I got to play Jack Abbott, who was a bit of a cad, a bit of a jerk, I had David Canary in my back pocket. Those were my real examples that shaped my career.

You're in the Daytime Emmy history books. Do you want another one?

I would love to have another one. I'm always very flattered to be welcomed to the party. I have three and I've been nominated a bit. Each was significant in its own way. They share a shelf on a bookcase at home. I don't sit and hold one or something like that. They're pretty mementos from fun chapters in my life.
You've been in one of the longest TV rivalries of all time. How have you maintained that?

My rivalry with Victor [Eric Braeden] is the greatest gift in the world. We've learned to respect the fact that we have the longest standing rivalry in television daytime—or nighttime! We are both very proud and very grateful for the longevity of that and the ease with which we work with each other.
Acting Thrills
Blazer by John Varvatos. Shirt by Theory. Pants by J.Crew. Watch by Omega. Sunglasses by RayBan. Pocket square by Drake's.
F Scott Schafer / CBS 2019 @ CBS Broadcasting Inc. All Rights Reserved.
What's one of your fondest memories of attending the Emmys? Any pre-ceremony rituals?

For the first 12 years at Y&R, every night of the Emmys, David [Canary] of All My Children and his wife, Bob [Robert] Woods of One Life to Live, Susan Lucci and her husband, and Mariellen and I would go to dinner before the Emmys. It was a tradition. Kelly Ripa and her husband Mark [Consuelos] were there one year, and one time Wayne Gretzky and his wife, Janet, joined us. We had these wonderful dinners before going to the Emmy Awards, and those are treasured memories.

What still thrills you about your job and the Emmys?
Unlike any other acting job, I do scenes with people I've worked with for 25, 30 years. There is so much stuff underneath that girds your performance. It's the gift that keeps on giving.
I've been in this industry for a very, very long time, so I know many people who will be in that room—just from my years of going to the Emmys and working in daytime. It's a smaller world than when I started. Back then, there were 11 soap operas, so I was competing against a lot of people. Now there are only four. Sometimes it's my only chance to see them in a year.
As far as competition, you're in good company in this year's category for outstanding lead actor. Any thoughts on your fellow nominees?
Eric Martsolf and James Reynolds, who work on Days of Our Lives, are both fine actors and terrific guys. There's also Jason Thompson, who plays my brother Billy on the show. He's a great guy and one of my favorite human beings. His presence in my professional life is a giant gift, so to be nominated with him feels wonderful. Last of all, the legendary John McCook [of The Bold and the Beautiful]. John, in my second week here at Y&R, passed me in the hall and said, 'Hey, I'm John McCook. I work over here, and I just wanted to say welcome.' What? Who does that? That was fantastic.
In the years since, we have watched each other's families grow up, vacationed together, and spent countless Christmases together. The McCooks have an annual Christmas party that's a part of our calendar. Laurette and Mariellen—John's wife and my wife—are very good friends. He taught me an important lesson about reaching out, saying hello, getting to know people, and showing interest. I've carried that with me for a long time. Now I get to go to the Emmys with John.
Updated from an article originally published in Watch Magazine, November-December 2019.

Photography by F. Scott Schafer. Styled by Christina Pacelli. Grooming by Melissa Walsh.
shortcode-CTA-magazine]
Watch The Young and the Restless weekdays on CBS and streaming on Paramount+.