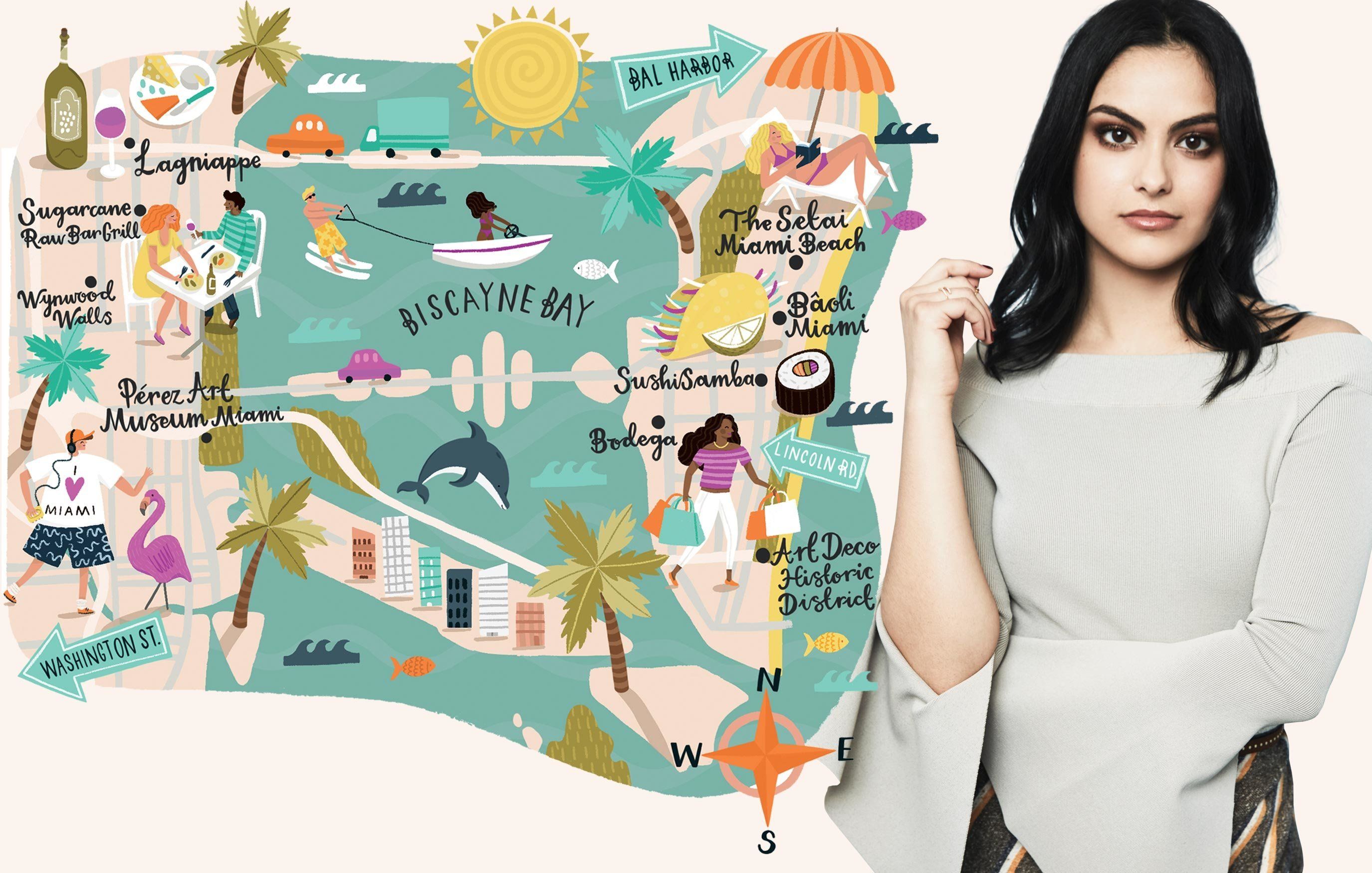 Photo Credit: Lauren Radley (Illustration); Maarten de Boer/Contour by Getty Images (Mendes).
Riverdale star Camila Mendes (Veronica Lodge) shows us around America's sexiest city.
By Yolanda Crous
In the Archie comics-inspired series, Riverdale, actress Camila Mendes plays Veronica Lodge, a high school sophomore who moves to Riverdale from New York City. Mendes knows what it's like to have to adjust to a new place; she grew up in Miami and recently relocated to Vancouver, British Columbia, to film the show. "The vibes are different," she says. "Vancouver is more laid-back, pretty much what you would expect from a West Coast city. Miami is definitely livelier—the nightlife, the people, everything. It's basically a little slice of Latin America."
Sound like a great place to warm up after a long winter? Watch! asked Mendes to share where she goes first when she visits her hot hometown.
DROP SOME CASH
Walking down Lincoln Road is a great way to shop. It's definitely touristy, but the ambience is so lively. You'll find most of the popular chain stores, as well as some boutique spots. If you want a more luxurious experience, Bal Harbour is really neat. But I think the best kind of souvenir you can take home from Miami is a touristy T-shirt with a funny, sexy saying on it. Washington Avenue has a bunch of them. Miami can be super-kitschy at times, and it's fun to embrace that.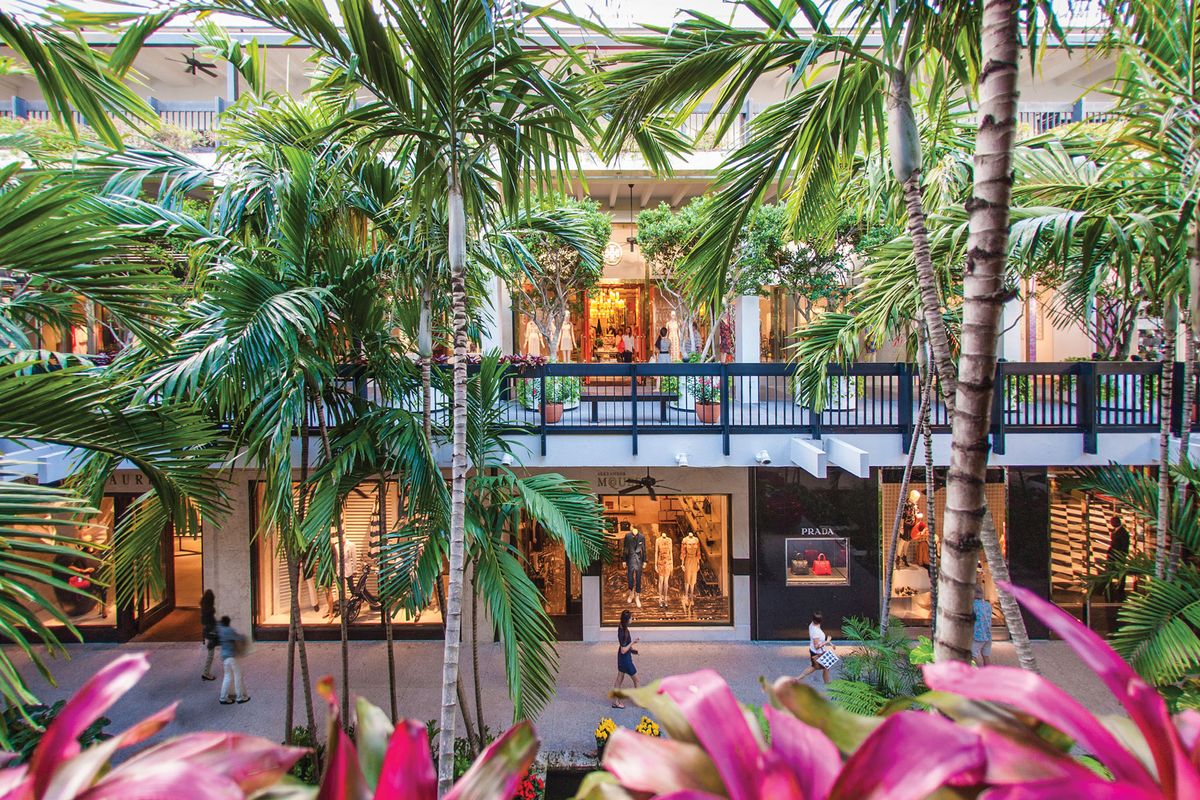 The retail shops at Bal Harbour, Miami.
HIT THE TOWN

My favorite bar in Miami is Lagniappe, a wine and cheese bar with live music and a really cozy outdoor area where they serve BBQ. That's where you'll find all the hipsters. I also love Bodega. It's a taco bar that doubles as a speakeasy—just walk through the bathroom door and past the urinals. Great music, fun crowd and a pool table. And if you experience a case of the "drunchies," you can always grab a delicious taco on your way out.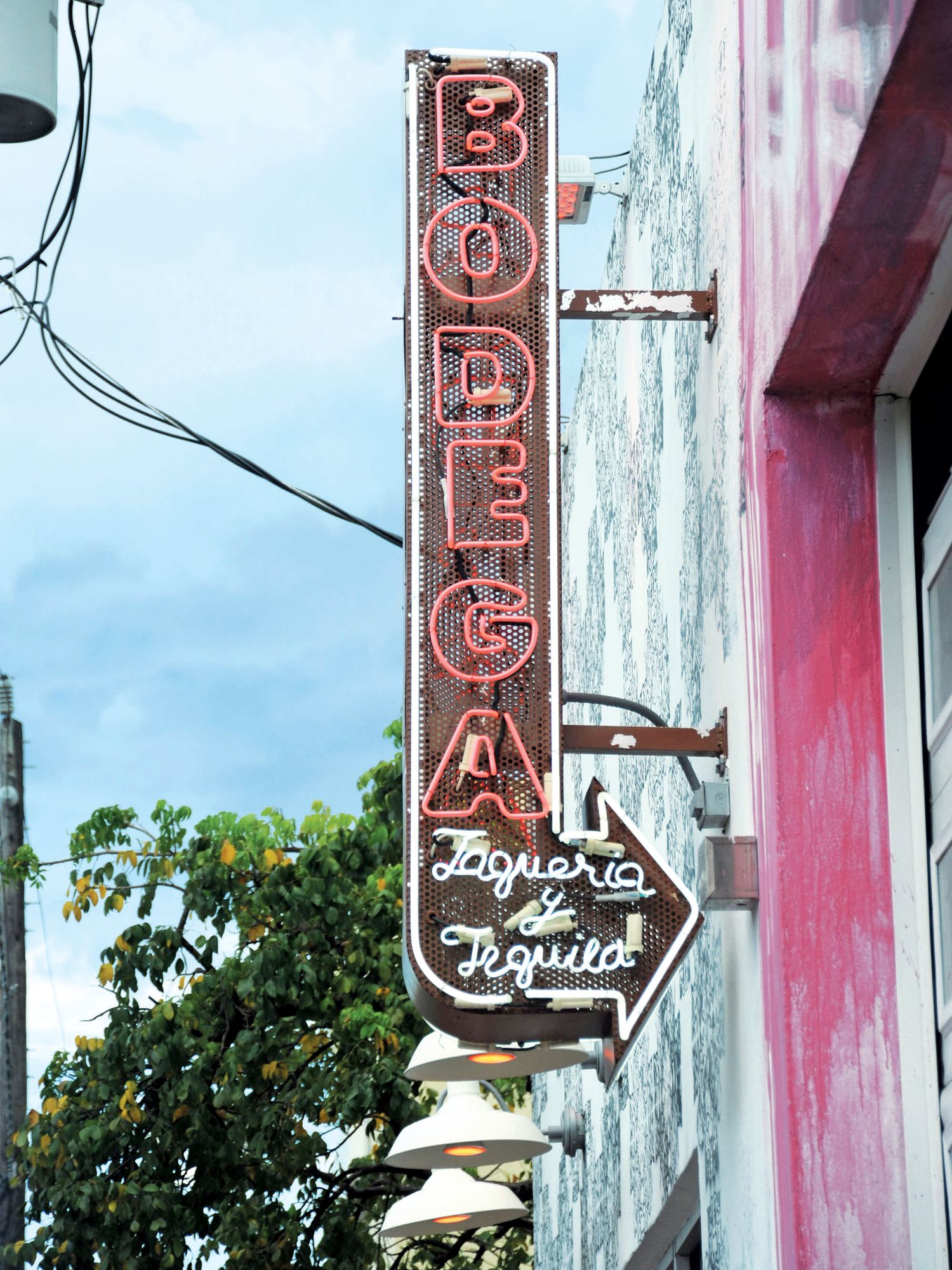 Bodega Taqueria y Tequila is one of Camila Mendes' favorite Miami haunts.
EAT LIKE A FOODIE

I love Sugarcane Raw Bar Grill in midtown for brunch. It's my go-to spot whenever I have friends visiting. It has a really cool atmosphere, but it's never pretentious like some places in Miami. If you go there, you have to order the bacon-wrapped dates. I crave them constantly. For lunch, I love SushiSamba, a Brazilian-Japanese fusion restaurant on Lincoln Road. I'm Brazilian, and I love sushi, so the combination is a culinary dream come true for me. Or try a Cuban sandwich and a cafecito at a typical Cuban restaurant in Little Havana. For dinner, I highly recommend Bâoli. Make sure you ask for a courtyard table. Try the wagyu beef sliders, and the hamachi sashimi tacos.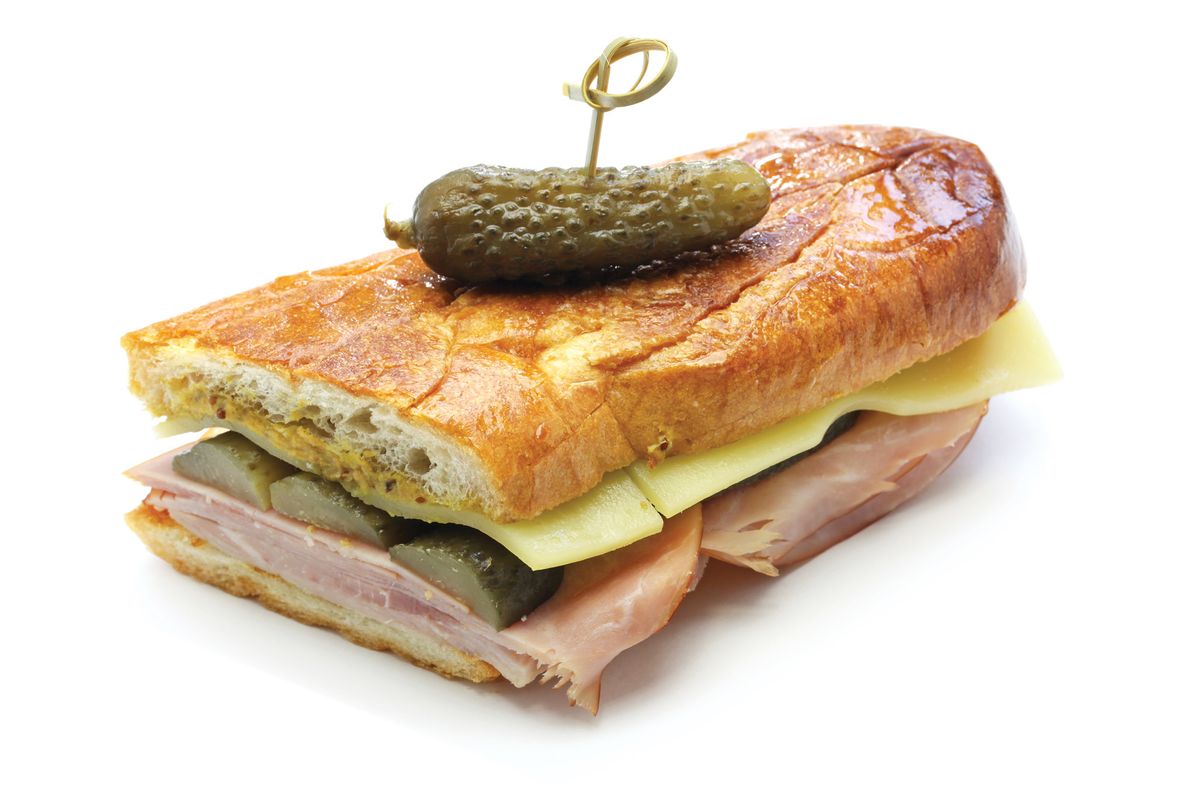 Photo Credit: Bonchan/Getty Images.
STAY COOL

I personally love the Setai Miami Beach on Collins. It has a place in my heart because I used to live there with my dad, but I think anybody would appreciate its modern, Asian-inspired design. My perfect day would be spent poolside with some friends. Their pool deck is gorgeous, and the atmosphere is very serene.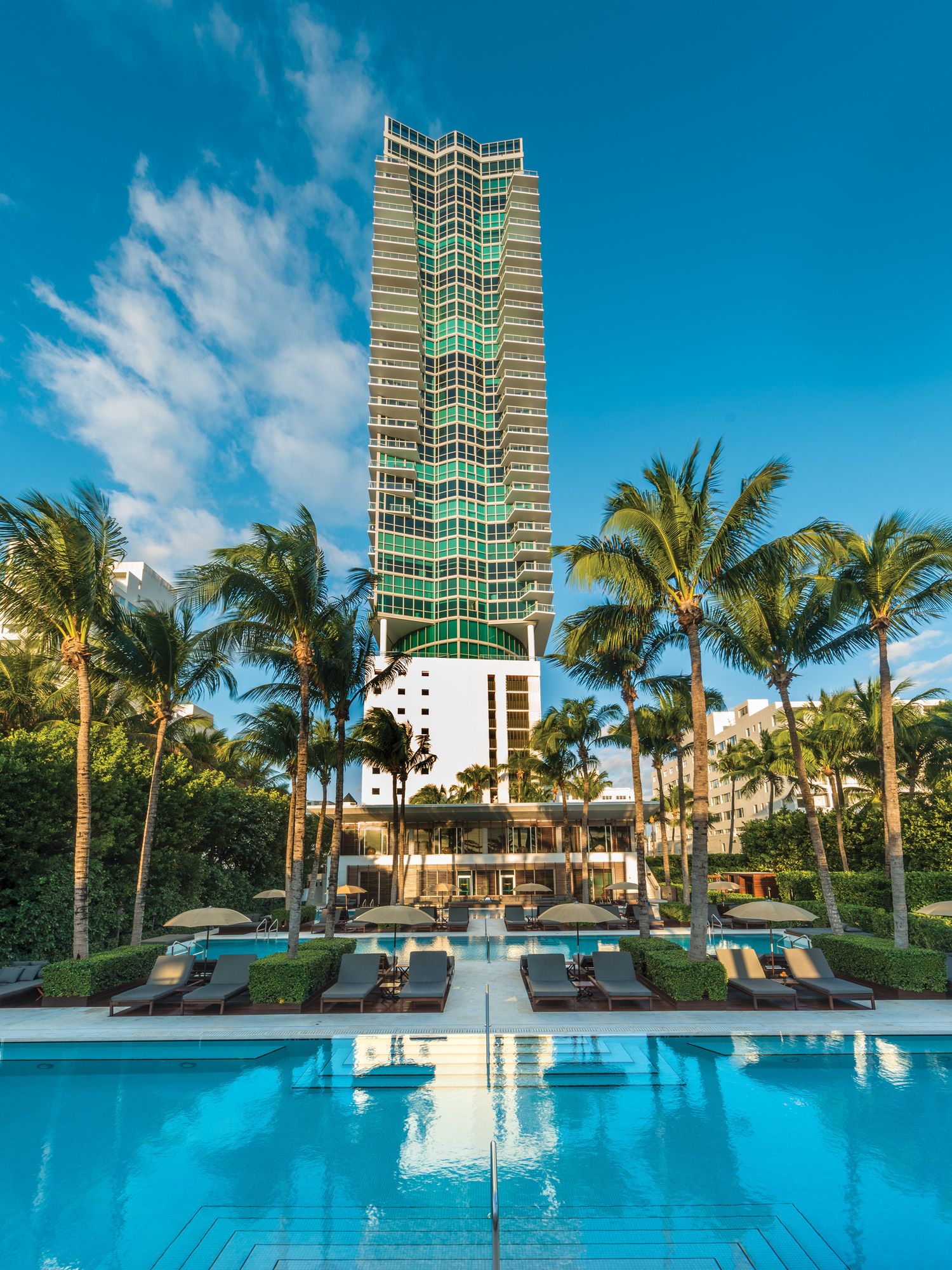 Photo Credit: Courtesy of The Setai, Miami Beach.
VISIT MIAMI'S INSTA-MUSTS
Check out the Art Deco District and feast your eyes upon the colorful graffiti murals all around the Wynwood Walls. The recently built Pérez Art Museum also has plenty of photo options, whether it's the beautiful exterior design or the gorgeous view of Biscayne Bay.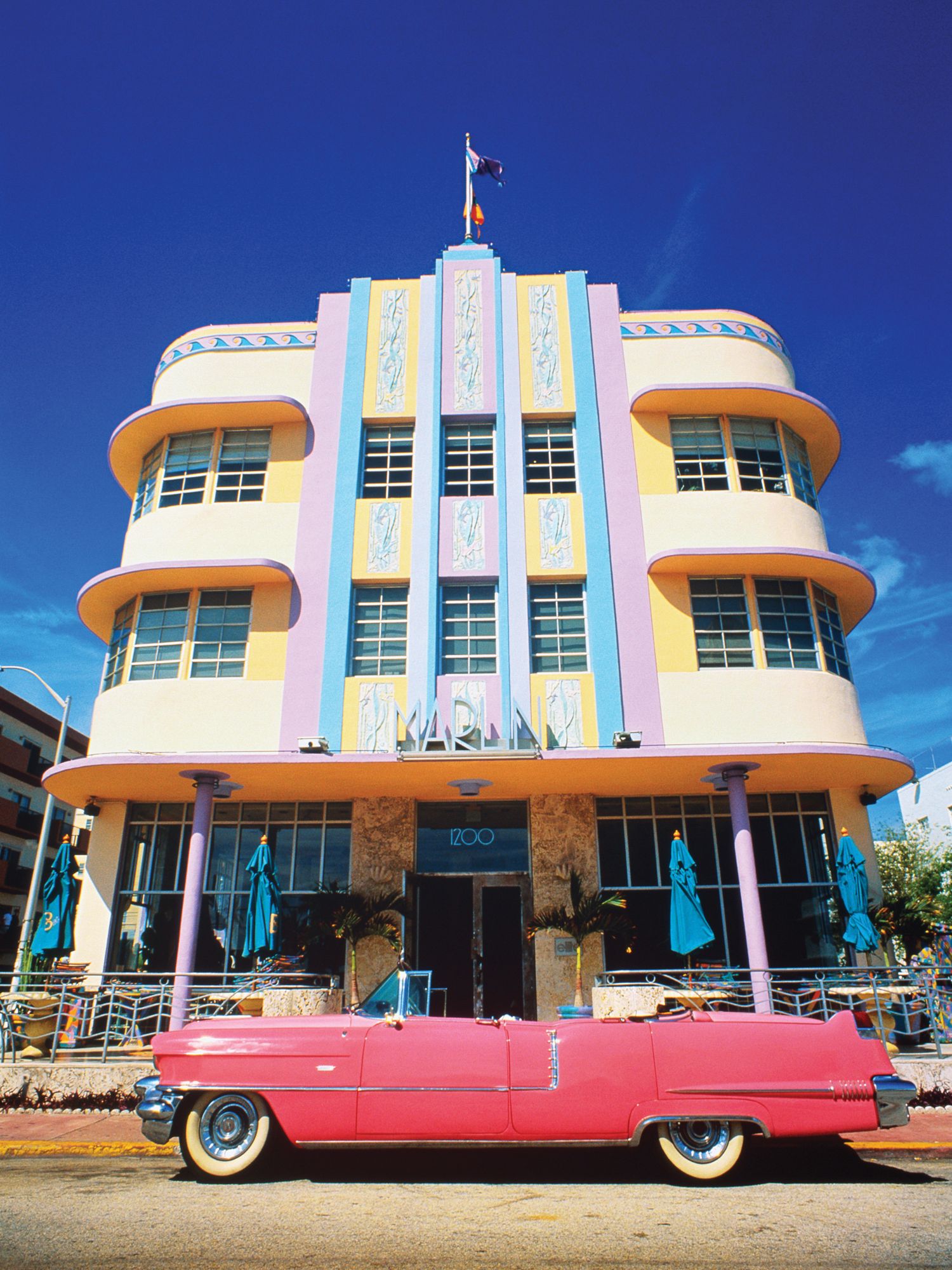 Photo Credit: Randy Wells/Getty Images.
Originally published in Watch! Magazine, April 2017.

Watch Riverdale on Wednesdays at 8/7c on The CW. Stream new episodes Thursdays free on The CW App!