Travel
Instinct Star Alan Cumming Is One Dashing Lad In Scotland
Photography by Mark Mann
It's easy to have a bonny good time with this great Scot. Check out these cool photos of Alan Cumming in Edinburgh!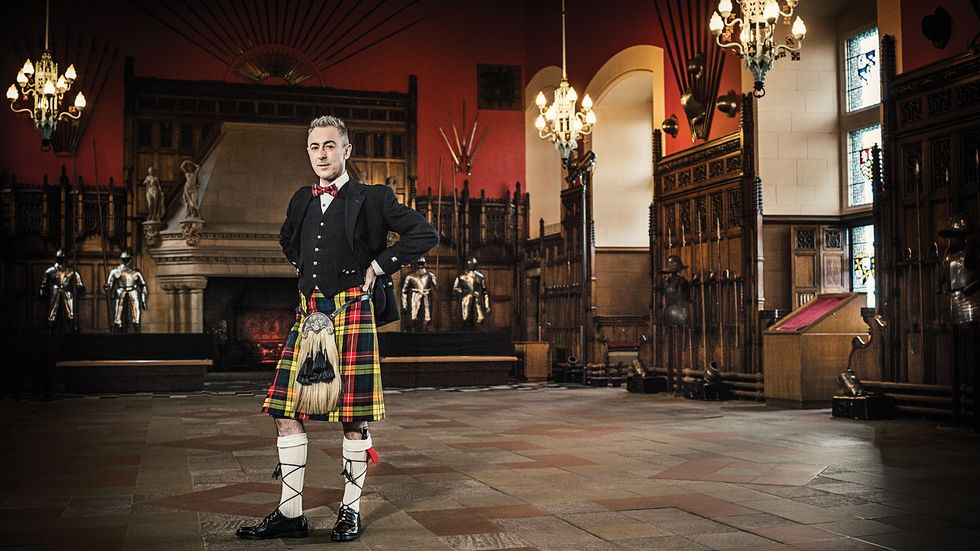 Photography by Mark Mann
Throughout his career, Alan Cumming has played roles as diverse as a Bond villain in 1995's GoldenEye, the flamboyant master of ceremonies in Cabaret on Broadway, a confrontational crisis manager Eli Gold on CBS' critically-acclaimed drama The Good Wife, and now, he is starring as former CIA agent Dr. Dylan Reinhart in CBS' drama series Instinct.
Watch! photographed the award-winning actor clad in authentic tartans and kilts in his native land of Scotland, as seen above in the Great Hall at Edinburgh Castle. There's no place like home for this bonny lad!
Photography by Mark Mann. Originally published in Watch! Magazine, April 2016.
Don't miss the Season 2 premiere of Instinct on Sunday, June 30 at 9/8c on CBS and CBS All Access.
</div> <div class="rebellt-item col1" id="rebelltitem2" data-id="2" data-reload-ads="false" data-is-image="True" data-href="https://cbswatchmagazine.com/travel/instinct-star-alan-cumming-is-one-dashing-lad-in-scotland/mans-best-friend" data-basename="mans-best-friend" data-post-id="2640873298" data-published-at="1614633449" data-use-pagination="False"> <h3 data-role="headline"> Man's best friend </h3> <img type="lazy-image" data-runner-src="https://assets.rebelmouse.io/eyJhbGciOiJIUzI1NiIsInR5cCI6IkpXVCJ9.eyJpbWFnZSI6Imh0dHBzOi8vYXNzZXRzLnJibC5tcy8yMTIwMTQ1Mi9vcmlnaW4uanBnIiwiZXhwaXJlc19hdCI6MTY0Njc0NDgzMH0.GhcYtVgJ33E50tyIR09h9VytpCs0uX9eubABA5wwSEc/img.jpg?width=980" id="cc25f" class="rm-shortcode" data-rm-shortcode-id="27b5d4f465b60c33e3a466c2dbca8515" data-rm-shortcode-name="rebelmouse-image" alt="Alan Cumming and three black labs"> <small class="image-media media-photo-credit"><p>Photography by Mark Mann</p></small> <p>A lad and his labs.</p><p><br><br></p><p>Photography by Mark Mann. Originally published in <em>Watch!</em> Magazine, April 2016.</p><p><br><br></p><p>Season 2 of <em>Instinct</em> premieres on Sunday, June 30 at 9/8c on CBS and CBS All Access.</p> </div> <div class="rebellt-item col1" id="rebelltitem3" data-id="3" data-reload-ads="false" data-is-image="True" data-href="https://cbswatchmagazine.com/travel/instinct-star-alan-cumming-is-one-dashing-lad-in-scotland/red-hot" data-basename="red-hot" data-post-id="2640873298" data-published-at="1614633449" data-use-pagination="False"> <h3 data-role="headline"> Red hot </h3> <img type="lazy-image" data-runner-src="https://assets.rebelmouse.io/eyJhbGciOiJIUzI1NiIsInR5cCI6IkpXVCJ9.eyJpbWFnZSI6Imh0dHBzOi8vYXNzZXRzLnJibC5tcy8yMTIwMTQ3NC9vcmlnaW4uanBnIiwiZXhwaXJlc19hdCI6MTY1NDI1NjQ2OX0.chBYliUPpclots1sxjJgss2je5thH_8LLooY4xBjCvY/img.jpg?width=980" id="29407" class="rm-shortcode" data-rm-shortcode-id="efc741e13c8415be75b7210ac0038c08" data-rm-shortcode-name="rebelmouse-image" alt="Alan Cumming in a red plaid suit"> <small class="image-media media-photo-credit"><p>Photography by Mark Mann</p></small> <p>Hello, rad in plaid! Alan Cumming in Princes Street Gardens, Scotland.</p><p><br><br></p><p>Photography by Mark Mann. Originally published in <em>Watch!</em> Magazine, April 2016.</p><p><br><br></p><p>Seasons 2 of <em>Instinct</em> premieres on Sunday, June 30 at 9/8c on CBS and CBS All Access.</p> </div> <div class="incontent-ad" style="height: 250px;" data-pos="InContent"></div> <div class="rebellt-item col1" id="rebelltitem4" data-id="4" data-reload-ads="true" data-is-image="True" data-href="https://cbswatchmagazine.com/travel/instinct-star-alan-cumming-is-one-dashing-lad-in-scotland/street-appeal" data-basename="street-appeal" data-post-id="2640873298" data-published-at="1614633449" data-use-pagination="False"> <h3 data-role="headline"> Street appeal </h3> <img type="lazy-image" data-runner-src="https://assets.rebelmouse.io/eyJhbGciOiJIUzI1NiIsInR5cCI6IkpXVCJ9.eyJpbWFnZSI6Imh0dHBzOi8vYXNzZXRzLnJibC5tcy8yMTIwMTQ5OC9vcmlnaW4uanBnIiwiZXhwaXJlc19hdCI6MTYyNDUwMjg4NH0.2Op1Q9xUfGhpfGHeEEk8UpyANJEb2wh7_5Uxpl9ZRmA/img.jpg?width=980" id="50413" class="rm-shortcode" data-rm-shortcode-id="55100ac9cb4519b6bcb1f6ba32f67334" data-rm-shortcode-name="rebelmouse-image" alt="Alan Cumming on a city street in Scotland wearing a yellow sweater and blue plaid pants"> <small class="image-media media-photo-credit"><p>Photography by Mark Mann</p></small> <p>Alan Cumming looks dashing in town at Grass Market.</p><p><br><br></p><p>Photography by Mark Mann. Originally published in <em>Watch!</em> Magazine, April 2016.</p><p><br><br></p><p>Seasons 2 of <em>Instinct</em> premieres on Sunday, June 30 at 9/8c on CBS and CBS All Access.</p> </div> <div class="rebellt-item col1" id="rebelltitem5" data-id="5" data-reload-ads="false" data-is-image="True" data-href="https://cbswatchmagazine.com/travel/instinct-star-alan-cumming-is-one-dashing-lad-in-scotland/bonnie-lad" data-basename="bonnie-lad" data-post-id="2640873298" data-published-at="1614633449" data-use-pagination="False"> <h3 data-role="headline"> Bonnie lad </h3> <img type="lazy-image" data-runner-src="https://assets.rebelmouse.io/eyJhbGciOiJIUzI1NiIsInR5cCI6IkpXVCJ9.eyJpbWFnZSI6Imh0dHBzOi8vYXNzZXRzLnJibC5tcy8yMTIwMTUyNC9vcmlnaW4uanBnIiwiZXhwaXJlc19hdCI6MTY1OTM3NjQzMn0.ZF_TDFA-DIYRXLgbG2Buq91a7mM-Rr_rR8S8tI_wb6M/img.jpg?width=980" id="90ecd" class="rm-shortcode" data-rm-shortcode-id="01d93854279f81013b20b9b649e79169" data-rm-shortcode-name="rebelmouse-image" alt="Alan Cumming outside in a kilt in Glengeagles in Scotland"> <small class="image-media media-photo-credit"><p>Photography by Mark Mann</p></small> <p>This <em>Instinct</em> star certainly rocks a kilt at Gleneagles in Scotland.</p><p><br><br></p><p>Photography by Mark Mann. Originally published in <em>Watch!</em> Magazine, April 2016.</p><p><br><br></p><p>Season 2 of <em>Instinct</em> premieres on Sunday, June 30 at 9/8c CBS and CBS All Access.</p> </div> <div class="rebellt-item col1" id="rebelltitem6" data-id="6" data-reload-ads="false" data-is-image="True" data-href="https://cbswatchmagazine.com/travel/instinct-star-alan-cumming-is-one-dashing-lad-in-scotland/game-on" data-basename="game-on" data-post-id="2640873298" data-published-at="1614633449" data-use-pagination="False"> <h3 data-role="headline"> Game on </h3> <img type="lazy-image" data-runner-src="https://assets.rebelmouse.io/eyJhbGciOiJIUzI1NiIsInR5cCI6IkpXVCJ9.eyJpbWFnZSI6Imh0dHBzOi8vYXNzZXRzLnJibC5tcy8yMTIwMTU0Ny9vcmlnaW4uanBnIiwiZXhwaXJlc19hdCI6MTY2Nzk4ODI1M30.feZDlmXa29OeHx7p3rbCNwDpRkrq7XGZGjO92Wr_jKs/img.jpg?width=980" id="e20e2" class="rm-shortcode" data-rm-shortcode-id="363ee8dc5555e608a27f62b766c319d4" data-rm-shortcode-name="rebelmouse-image" alt="Alan Cumming playing croquet on castle grounds in Scotland"> <small class="image-media media-photo-credit"><p>Photography by Mark Mann</p></small> <p>These castle grounds are perfect for croquet.</p><p><br><br></p><p>Photography by Mark Mann. Originally published in <em>Watch!</em> Magazine, April 2016.</p><p><br><br></p><p>Season 2 of <em>Instinct</em> premieres on Sunday, June 30 at 9/8c on CBS and CBS All Access.</p> </div> <div class="incontent-ad" style="height: 250px;" data-pos="InContent"></div> <div class="rebellt-item col1" id="rebelltitem7" data-id="7" data-reload-ads="true" data-is-image="True" data-href="https://cbswatchmagazine.com/travel/instinct-star-alan-cumming-is-one-dashing-lad-in-scotland/no-place-like-home" data-basename="no-place-like-home" data-post-id="2640873298" data-published-at="1614633449" data-use-pagination="False"> <h3 data-role="headline"> No place like home </h3> <img type="lazy-image" data-runner-src="https://assets.rebelmouse.io/eyJhbGciOiJIUzI1NiIsInR5cCI6IkpXVCJ9.eyJpbWFnZSI6Imh0dHBzOi8vYXNzZXRzLnJibC5tcy8yMTIwMTU3OC9vcmlnaW4uanBnIiwiZXhwaXJlc19hdCI6MTY2NTA3NzkyMn0.ejgRanFTqBpoDTUs5PhpKL16aTpx8-RfkOVEHnhGeJQ/img.jpg?width=980" id="d98c5" class="rm-shortcode" data-rm-shortcode-id="cf0b59d561e69bb1ab07f571e21bd450" data-rm-shortcode-name="rebelmouse-image" alt="Alan Cumming in red plaid pants at the Carlton Hill Monument in Scotland"> <small class="image-media media-photo-credit"><p>Photography by Mark Mann</p></small> <p>Alan Cumming takes in the beautiful scenery at Carlton Hill Monument in Scotland.</p><p><br><br></p><p>Photography by Mark Mann. Originally published in <em>Watch!</em> Magazine, April 2016.</p><p><br><br></p><p>Season 2 of <em>Instinct</em> premieres on Sunday, June 30 at 9/8c CBS and CBS All Access.</p> </div> <div class="rebellt-item col1" id="rebelltitem8" data-id="8" data-reload-ads="false" data-is-image="True" data-href="https://cbswatchmagazine.com/travel/instinct-star-alan-cumming-is-one-dashing-lad-in-scotland/add-some-drama" data-basename="add-some-drama" data-post-id="2640873298" data-published-at="1614633449" data-use-pagination="False"> <h3 data-role="headline"> Add some drama </h3> <img type="lazy-image" data-runner-src="https://assets.rebelmouse.io/eyJhbGciOiJIUzI1NiIsInR5cCI6IkpXVCJ9.eyJpbWFnZSI6Imh0dHBzOi8vYXNzZXRzLnJibC5tcy8yMTIwMTU4OC9vcmlnaW4uanBnIiwiZXhwaXJlc19hdCI6MTYzMjg5MTAzMX0.720y2y4_clKVwT8CEHL3sYpqe-PHZowZoWaxoDOPiik/img.jpg?width=980" id="cb274" class="rm-shortcode" data-rm-shortcode-id="599274144dc0d9d666403f71f0323d09" data-rm-shortcode-name="rebelmouse-image" alt="Alan Cumming sitting on a rock ledge in a gray jacket"> <small class="image-media media-photo-credit"><p>Photography by Mark Mann</p></small> <p>He knows how to capture our attention.</p><p><br><br></p><p>Photography by Mark Mann. Originally published in <em>Watch!</em> Magazine, April 2016.</p><p><br><br></p><p>Season 2 of <em>Instinct</em> premieres on Sunday, June 30 at 9/8c on CBS and CBS All Access.</p> </div> <div class="rebellt-item col1" id="rebelltitem9" data-id="9" data-reload-ads="false" data-is-image="True" data-href="https://cbswatchmagazine.com/travel/instinct-star-alan-cumming-is-one-dashing-lad-in-scotland/fair-play" data-basename="fair-play" data-post-id="2640873298" data-published-at="1614633449" data-use-pagination="False"> <h3 data-role="headline"> Fair play </h3> <img type="lazy-image" data-runner-src="https://assets.rebelmouse.io/eyJhbGciOiJIUzI1NiIsInR5cCI6IkpXVCJ9.eyJpbWFnZSI6Imh0dHBzOi8vYXNzZXRzLnJibC5tcy8yMTIwMTYxNi9vcmlnaW4uanBnIiwiZXhwaXJlc19hdCI6MTYzNDA0NTg4Mn0.GL2Yx08bm2gElUuT7ePgKXdF95WfYv5G6_rYNXw-dpc/img.jpg?width=980" id="23d87" class="rm-shortcode" data-rm-shortcode-id="0d0df549089376a4036cab8dd7a8c7d9" data-rm-shortcode-name="rebelmouse-image" alt="Alan Cumming golfing in a colorful outfit"> <small class="image-media media-photo-credit"><p>Photography by Mark Mann</p></small> <p>Monochromatic looks are so last season.</p><p><br><br></p><p>Photography by Mark Mann. Originally published in <em>Watch!</em> Magazine, April 2016.</p><p><br><br></p><p>Season 2 of <em>Instinct</em> on premieres Sunday, June 30 at 9/8c CBS and CBS All Access.</p> </div> <div class="incontent-ad" style="height: 250px;" data-pos="InContent"></div> <div class="rebellt-item col1" id="rebelltitem10" data-id="10" data-reload-ads="true" data-is-image="True" data-href="https://cbswatchmagazine.com/travel/instinct-star-alan-cumming-is-one-dashing-lad-in-scotland/man-of-many-talents" data-basename="man-of-many-talents" data-post-id="2640873298" data-published-at="1614633449" data-use-pagination="False"> <h3 data-role="headline"> Man of many talents </h3> <img type="lazy-image" data-runner-src="https://assets.rebelmouse.io/eyJhbGciOiJIUzI1NiIsInR5cCI6IkpXVCJ9.eyJpbWFnZSI6Imh0dHBzOi8vYXNzZXRzLnJibC5tcy8yMTIwMTYxOC9vcmlnaW4uanBnIiwiZXhwaXJlc19hdCI6MTY1MTM0NTA2MH0.-Hg9-_NLcY8ifpEfvtGnE73ZN8vBCATHpSVAqwKGIPw/img.jpg?width=980" id="d9ab5" class="rm-shortcode" data-rm-shortcode-id="c2aca0a37377856152c70a6c92b1c036" data-rm-shortcode-name="rebelmouse-image" alt="Alan Cumming in a red plaid kilt"> <small class="image-media media-photo-credit"><p>Photography by Mark Mann</p></small> <p>This setup in Edinburgh's Carlton Hill captures the many sides of the performer.</p><p><br><br></p><p>Photography by Mark Mann. Originally published in <em>Watch!</em> Magazine, April 2016.</p><p><br><br></p><p>Don't miss the Season 2 premiere of <em>Instinct</em> on Sunday, June 30 at 9/8c CBS and CBS All Access.</p> </div><p></p><div class="post-pager js-listicle-pager" data-listicle-style="" data-async_load_parameters="platform=desktop&amp;display_ads=1&amp;settings=%7B%22enter_url%22%3A+false%2C+%22no_post_section%22%3A+false%2C+%22ads_breaks%22%3A+%5B3%2C+3%2C+3%5D%2C+%22prevent_last_break_repetition%22%3A+false%2C+%22use_numeration%22%3A+false%2C+%22show_columns_on_mobile%22%3A+false%2C+%22ads_order%22%3A+%5B3%5D%2C+%22turn_into_posts%22%3A+false%2C+%22list_breaks%22%3A+null%2C+%22reorder_voting%22%3A+false%2C+%22cooldown_in_seconds%22%3A+null%2C+%22pagination_order%22%3A+%5B%5D%2C+%22source%22%3A+%22post_listicle_settings%22%2C+%22next_post_url%22%3A+null%2C+%22up_down_voting%22%3A+false%2C+%22allow_url_change%22%3A+true%2C+%22numeration_sort%22%3A+-1%2C+%22allow_url_update%22%3A+true%2C+%22use_pagination%22%3A+false%2C+%22body_text_above%22%3A+false%2C+%22use_ads%22%3A+true%2C+%22items_as_posts%22%3A+false%2C+%22multiple_answers%22%3A+false%2C+%22no_redirect%22%3A+true%2C+%22is_guest_voting_allowed%22%3A+true%2C+%22layout_type%22%3A+1%2C+%22voting_extra_fields%22%3A+%7B%7D%7D"> </div>