Photography by Cliff Lipson
Seeing the sights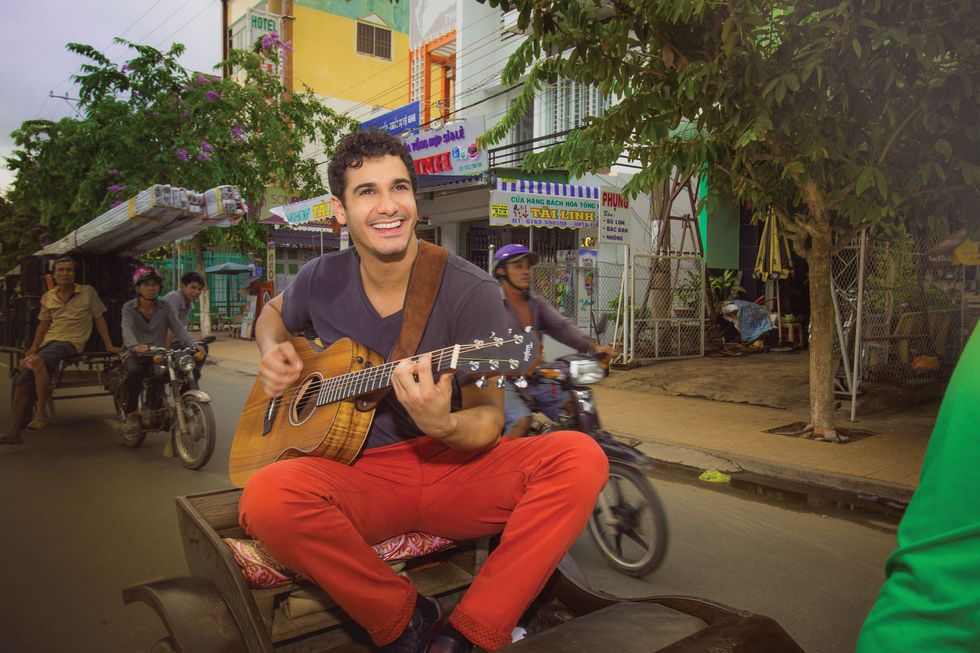 Photography by Cliff Lipson
Take a riverboat cruise up the Mekong into Vietnam and Cambodia's interior with Scorpion's king and queen, Elyes Gabel and Katharine McPhee, who traveled together for Watch! photo shoots in 2015. These globetrotting CBS stars took the trip of a lifetime and these gorgeous photos prove it. Are you filled with wanderlust yet?
Stay tuned for more beautiful photography to come. Watch Scorpion on Mondays at 10/9c on CBS and CBS All Access.Elyes Gabel on a rickshaw ride in the town of Chau Doc in Vietnam.
Photography by Cliff Lipson. Originally published in Watch! Magazine, December 2016.
</div> <div class="rebellt-item col1" id="rebelltitem3" data-id="3" data-reload-ads="false" data-is-image="True" data-href="https://cbswatchmagazine.com/travel/scorpions-katharine-mcphee-and-elyes-gabel-explore-southeast-asia/true-colors" data-basename="true-colors" data-post-id="2640874332" data-published-at="1611586473" data-use-pagination="False"> <h3 data-role="headline"> True colors </h3> <img type="lazy-image" data-runner-src="https://assets.rebelmouse.io/eyJhbGciOiJIUzI1NiIsInR5cCI6IkpXVCJ9.eyJpbWFnZSI6Imh0dHBzOi8vYXNzZXRzLnJibC5tcy8yMTIxMjgzOS9vcmlnaW4uanBnIiwiZXhwaXJlc19hdCI6MTYzNjgxNTg0OH0.Kv1B7CCH368UgtPOEfVzDq5VFmta6nZ9IGsbo-mB0Bk/img.jpg?width=980" id="eb347" class="rm-shortcode" data-rm-shortcode-id="ce47f8a841b017a47f9cb6de2f4940f9" data-rm-shortcode-name="rebelmouse-image" alt="Katharine McPhee of Scorpion in a sheer red floral dress with a pink fan in Southeast Asia"> <small class="image-media media-photo-credit"><p>Photography by Cliff Lipson</p></small> <p>Katharine McPhee embraces Southeast Asia's vibrant culture.</p><p><br><br></p><p>Photography by Cliff Lipson. Originally published in <em>Watch!</em> Magazine, June 2016.</p> </div> <div class="rebellt-item col1" id="rebelltitem4" data-id="4" data-reload-ads="false" data-is-image="True" data-href="https://cbswatchmagazine.com/travel/scorpions-katharine-mcphee-and-elyes-gabel-explore-southeast-asia/rolling-on-the-river" data-basename="rolling-on-the-river" data-post-id="2640874332" data-published-at="1611586473" data-use-pagination="False"> <h3 data-role="headline"> Rolling on the river </h3> <img type="lazy-image" data-runner-src="https://assets.rebelmouse.io/eyJhbGciOiJIUzI1NiIsInR5cCI6IkpXVCJ9.eyJpbWFnZSI6Imh0dHBzOi8vYXNzZXRzLnJibC5tcy8yMTIxMjg0Ny9vcmlnaW4uanBnIiwiZXhwaXJlc19hdCI6MTY0OTY2MDg0Nn0.zV4Tbg0wY5nHnxe3c9qc7PIvFDI9jzvVJpQErRbC-AU/img.jpg?width=980" id="4e8f8" class="rm-shortcode" data-rm-shortcode-id="1cbacf56c72b8ffa439721b2e5960af3" data-rm-shortcode-name="rebelmouse-image" alt="Elyes Gabel of Scorpion on a riverboat in Southeast Asia"> <small class="image-media media-photo-credit"><p>Photography by Cliff Lipson</p></small> On one of the skiffs of the luxurious Aqua Mekong riverboat cruise and tour.<br> <br> Photography by Cliff Lipson. Originally published in <em>Watch!</em> Magazine, December 2016. </div> <div class="incontent-ad" style="height: 250px;" data-pos="InContent"></div> <div class="rebellt-item col1" id="rebelltitem5" data-id="5" data-reload-ads="true" data-is-image="True" data-href="https://cbswatchmagazine.com/travel/scorpions-katharine-mcphee-and-elyes-gabel-explore-southeast-asia/the-life-aquatic" data-basename="the-life-aquatic" data-post-id="2640874332" data-published-at="1611586473" data-use-pagination="False"> <h3 data-role="headline"> The life aquatic </h3> <img type="lazy-image" data-runner-src="https://assets.rebelmouse.io/eyJhbGciOiJIUzI1NiIsInR5cCI6IkpXVCJ9.eyJpbWFnZSI6Imh0dHBzOi8vYXNzZXRzLnJibC5tcy8yMTIxMjg1Ni9vcmlnaW4uanBnIiwiZXhwaXJlc19hdCI6MTY3MDUwNTU0MH0.5Ek4-sqPwqP0LNqBbsRBtKwrAmi3MLXmJqDJuTGv-VY/img.jpg?width=980" id="c5f54" class="rm-shortcode" data-rm-shortcode-id="3aa27282acc58fb9fcfb47caa0fcd8f7" data-rm-shortcode-name="rebelmouse-image" alt="Katharine McPhee of Scorpion in a satin dress on a boat on the Mekong River"> <small class="image-media media-photo-credit"><p>Photography by Cliff Lipson</p></small> <p>Katharine McPhee looks out along the Mekong River that runs between Vietnam and Cambodia. </p><p><br><br></p><p>Photography by Cliff Lipson. Originally published in <em>Watch! </em>Magazine, June 2016.</p> </div> <div class="rebellt-item col1" id="rebelltitem6" data-id="6" data-reload-ads="false" data-is-image="True" data-href="https://cbswatchmagazine.com/travel/scorpions-katharine-mcphee-and-elyes-gabel-explore-southeast-asia/photo-op" data-basename="photo-op" data-post-id="2640874332" data-published-at="1611586473" data-use-pagination="False"> <h3 data-role="headline"> Photo op </h3> <img type="lazy-image" data-runner-src="https://assets.rebelmouse.io/eyJhbGciOiJIUzI1NiIsInR5cCI6IkpXVCJ9.eyJpbWFnZSI6Imh0dHBzOi8vYXNzZXRzLnJibC5tcy8yMTIxMjg2MS9vcmlnaW4uanBnIiwiZXhwaXJlc19hdCI6MTY3MTUwMTMxN30.2UspyhtC-YWRLTZ8TAZh8N-Mz1Iy9YqXPy126Fg7B10/img.jpg?width=980" id="951e9" class="rm-shortcode" data-rm-shortcode-id="66cd8eabbe26e57f6d59f0099cc97de8" data-rm-shortcode-name="rebelmouse-image" alt="Elyes Gabel of Scorpion holding a camera on a boat in the Mekong River"> <small class="image-media media-photo-credit"><p>Photography by Cliff Lipson</p></small> This constant traveler documents his epic journey on the other side of the globe.<br> <br> Photography by Cliff Lipson. Originally published in <em>Watch!</em> Magazine, December 2016. </div> <div class="rebellt-item col1" id="rebelltitem7" data-id="7" data-reload-ads="false" data-is-image="True" data-href="https://cbswatchmagazine.com/travel/scorpions-katharine-mcphee-and-elyes-gabel-explore-southeast-asia/just-another-day-in-paradise" data-basename="just-another-day-in-paradise" data-post-id="2640874332" data-published-at="1611586473" data-use-pagination="False"> <h3 data-role="headline"> Just another day in paradise </h3> <img type="lazy-image" data-runner-src="https://assets.rebelmouse.io/eyJhbGciOiJIUzI1NiIsInR5cCI6IkpXVCJ9.eyJpbWFnZSI6Imh0dHBzOi8vYXNzZXRzLnJibC5tcy8yMTIxMjg2OS9vcmlnaW4uanBnIiwiZXhwaXJlc19hdCI6MTY0NTc4NTU5NX0.D6_gvXHsZz5EYT3Ek01Unr1wTMCHV2dGbpHDk4FX5Mw/img.jpg?width=980" id="7d261" class="rm-shortcode" data-rm-shortcode-id="0a4ec859ad3a037f63a988fbb15d2fb2" data-rm-shortcode-name="rebelmouse-image" alt="Katharine McPhee of Scorpion with a white swimsuit and coverup and green earrings in Southeast Asia"> <small class="image-media media-photo-credit"><p>Photography by Cliff Lipson</p></small> <p>Katharine McPhee unwinds aboard the luxurious Aqua Mekong riverboat.</p><p><br><br></p><p>Photography by Cliff Lipson. Originally published in <em>Watch!</em> Magazine, June 2016.</p> </div> <div class="incontent-ad" style="height: 250px;" data-pos="InContent"></div> <div class="rebellt-item col1" id="rebelltitem8" data-id="8" data-reload-ads="true" data-is-image="True" data-href="https://cbswatchmagazine.com/travel/scorpions-katharine-mcphee-and-elyes-gabel-explore-southeast-asia/red-hot" data-basename="red-hot" data-post-id="2640874332" data-published-at="1611586473" data-use-pagination="False"> <h3 data-role="headline"> Red hot </h3> <img type="lazy-image" data-runner-src="https://assets.rebelmouse.io/eyJhbGciOiJIUzI1NiIsInR5cCI6IkpXVCJ9.eyJpbWFnZSI6Imh0dHBzOi8vYXNzZXRzLnJibC5tcy8yMTIxMjg3NS9vcmlnaW4uanBnIiwiZXhwaXJlc19hdCI6MTYyNDU3NzI3OX0._kksxMtXbePN7kAnLfgfLbbUx0zJcCyuxCcBLQBYdz4/img.jpg?width=980" id="a8132" class="rm-shortcode" data-rm-shortcode-id="34e9e634b99c3c3cb98396581a022ff0" data-rm-shortcode-name="rebelmouse-image" alt="Katharine McPhee of Scorpion in a white floppy hat and red bathing suit in Southeast Asia"> <small class="image-media media-photo-credit"><p>Photography by Cliff Lipson</p></small> <p>This <em>Scorpion</em> star sizzles in Southeast Asia.</p><p><br><br></p><p>Photography by Cliff Lipson. Originally published in <em>Watch!</em> Magazine, June 2016.</p> </div> <div class="rebellt-item col1" id="rebelltitem9" data-id="9" data-reload-ads="false" data-is-image="True" data-href="https://cbswatchmagazine.com/travel/scorpions-katharine-mcphee-and-elyes-gabel-explore-southeast-asia/stunning-in-scarlet" data-basename="stunning-in-scarlet" data-post-id="2640874332" data-published-at="1611586473" data-use-pagination="False"> <h3 data-role="headline"> Stunning in scarlet </h3> <img type="lazy-image" data-runner-src="https://assets.rebelmouse.io/eyJhbGciOiJIUzI1NiIsInR5cCI6IkpXVCJ9.eyJpbWFnZSI6Imh0dHBzOi8vYXNzZXRzLnJibC5tcy8yMTIxMjg3OS9vcmlnaW4uanBnIiwiZXhwaXJlc19hdCI6MTYzNjkwNDgzMH0.ObfFK8enraPIjdPOPw7_tnNScbheMuKifuqKzPv-HA0/img.jpg?width=980" id="e7e8a" class="rm-shortcode" data-rm-shortcode-id="3a3b2b8837bb3dab1fb744a0b6c3d807" data-rm-shortcode-name="rebelmouse-image" alt="Katharine McPhee of Scorpion in a red embroidered dress and gold jewelry in Southeast Asia"> <small class="image-media media-photo-credit"><p>Photography by Cliff Lipson</p></small> <p>Bold colors become Katharine.</p><p><br><br></p><p>Photography by Cliff Lipson. Originally published in <em>Watch!</em> Magazine, June 2016.</p> </div> <div class="rebellt-item col1" id="rebelltitem10" data-id="10" data-reload-ads="false" data-is-image="True" data-href="https://cbswatchmagazine.com/travel/scorpions-katharine-mcphee-and-elyes-gabel-explore-southeast-asia/local-culture" data-basename="local-culture" data-post-id="2640874332" data-published-at="1611586473" data-use-pagination="False"> <h3 data-role="headline"> Local culture </h3> <img type="lazy-image" data-runner-src="https://assets.rebelmouse.io/eyJhbGciOiJIUzI1NiIsInR5cCI6IkpXVCJ9.eyJpbWFnZSI6Imh0dHBzOi8vYXNzZXRzLnJibC5tcy8yMTIxMjg4OC9vcmlnaW4uanBnIiwiZXhwaXJlc19hdCI6MTYyNjI1Mzg2MH0.toNpKCMYsdwKhR-9gAj_nRty59iqWCS3KNdjbguRsk0/img.jpg?width=980" id="98894" class="rm-shortcode" data-rm-shortcode-id="c2ff8de44ac32c9d5588e95c285a290b" data-rm-shortcode-name="rebelmouse-image" alt="Katharine McPhee of Scorpion at a stall in a Vietnamese market"> <small class="image-media media-photo-credit"><p>Photography by Cliff Lipson</p></small> <p>Katharine McPhee explores a traditional Vietnamese market in Sa Đéc, Đồng Tháp province.</p><p><br><br></p><p>Photography by Cliff Lipson. Originally published in <em>Watch!</em> Magazine, June 2016.</p> </div> <div class="incontent-ad" style="height: 250px;" data-pos="InContent"></div> <div class="rebellt-item col1" id="rebelltitem11" data-id="11" data-reload-ads="true" data-is-image="True" data-href="https://cbswatchmagazine.com/travel/scorpions-katharine-mcphee-and-elyes-gabel-explore-southeast-asia/zen-moment" data-basename="zen-moment" data-post-id="2640874332" data-published-at="1611586473" data-use-pagination="False"> <h3 data-role="headline"> Zen moment </h3> <img type="lazy-image" data-runner-src="https://assets.rebelmouse.io/eyJhbGciOiJIUzI1NiIsInR5cCI6IkpXVCJ9.eyJpbWFnZSI6Imh0dHBzOi8vYXNzZXRzLnJibC5tcy8yMTIxMjg5NS9vcmlnaW4uanBnIiwiZXhwaXJlc19hdCI6MTY0MTk5Njg3OX0.FEX5SfG0WGaLSMuBo7DkXftXFpfc0taa-TqHYKyVRas/img.jpg?width=980" id="f0c44" class="rm-shortcode" data-rm-shortcode-id="fd4c2407ba7b79eeee9feb7cfcff7053" data-rm-shortcode-name="rebelmouse-image" alt="Elyes Gabel of Scorpion in a white shirt and jeans outside a temple in Vietnam"> <small class="image-media media-photo-credit"><p>Photography by Cliff Lipson</p></small> <p>Elyes outside the vibrant Long Son temple in Chau Doc, Vietnam.</p><p><br><br></p><p>Photography by Cliff Lipson. Originally published in <em>Watch!</em> Magazine, December 2016.</p> </div> <div class="rebellt-item col1" id="rebelltitem12" data-id="12" data-reload-ads="false" data-is-image="True" data-href="https://cbswatchmagazine.com/travel/scorpions-katharine-mcphee-and-elyes-gabel-explore-southeast-asia/take-a-bow" data-basename="take-a-bow" data-post-id="2640874332" data-published-at="1611586473" data-use-pagination="False"> <h3 data-role="headline"> Take a bow. </h3> <img type="lazy-image" data-runner-src="https://assets.rebelmouse.io/eyJhbGciOiJIUzI1NiIsInR5cCI6IkpXVCJ9.eyJpbWFnZSI6Imh0dHBzOi8vYXNzZXRzLnJibC5tcy8yMTIxMjkwMS9vcmlnaW4uanBnIiwiZXhwaXJlc19hdCI6MTY0MzIyMzk4Mn0.Tf-7K-MIWVIY2lpop8U0LQ9Qwy3CrUa8bsj0ge2QxTY/img.jpg?width=980" id="3c8f1" class="rm-shortcode" data-rm-shortcode-id="1f1065410549e54b6b899dd4792870f6" data-rm-shortcode-name="rebelmouse-image" alt="Katharine McPhee of Scorpion on a boat in Southeast Asia"> <small class="image-media media-photo-credit"><p>Photography by Cliff Lipson</p></small> Taking in the stunning scenery from the stern.<br> <br> Photography by Cliff Lipson. Originally published in <em>Watch!</em> Magazine, June 2016. </div> <div class="rebellt-item col1" id="rebelltitem13" data-id="13" data-reload-ads="false" data-is-image="True" data-href="https://cbswatchmagazine.com/travel/scorpions-katharine-mcphee-and-elyes-gabel-explore-southeast-asia/good-morning-vietnam" data-basename="good-morning-vietnam" data-post-id="2640874332" data-published-at="1611586473" data-use-pagination="False"> <h3 data-role="headline"> Good morning, Vietnam! </h3> <img type="lazy-image" data-runner-src="https://assets.rebelmouse.io/eyJhbGciOiJIUzI1NiIsInR5cCI6IkpXVCJ9.eyJpbWFnZSI6Imh0dHBzOi8vYXNzZXRzLnJibC5tcy8yMTIxMjkwNy9vcmlnaW4uanBnIiwiZXhwaXJlc19hdCI6MTYyNDg1NTg4Nn0.1wFQlK8i0z23s85_liarR5gbyT-lUULEKF8C7Yow60w/img.jpg?width=980" id="32225" class="rm-shortcode" data-rm-shortcode-id="27408d5b66cac3084f74f9de35e0b1e7" data-rm-shortcode-name="rebelmouse-image" alt="Elyes Gabel of Scorpion sitting inside a colorful temple in Vietnam"> <small class="image-media media-photo-credit"><p>Photography by Cliff Lipson</p></small> A meditative moment in Long Son temple in Chau Doc, Vietnam.<br> <br> Photography by Cliff Lipson. Originally published in <em>Watch!</em> Magazine, December 2016. </div> <div class="incontent-ad" style="height: 250px;" data-pos="InContent"></div> <div class="rebellt-item col1" id="rebelltitem14" data-id="14" data-reload-ads="true" data-is-image="True" data-href="https://cbswatchmagazine.com/travel/scorpions-katharine-mcphee-and-elyes-gabel-explore-southeast-asia/sunset-cruise" data-basename="sunset-cruise" data-post-id="2640874332" data-published-at="1611586473" data-use-pagination="False"> <h3 data-role="headline"> Sunset cruise </h3> <img type="lazy-image" data-runner-src="https://assets.rebelmouse.io/eyJhbGciOiJIUzI1NiIsInR5cCI6IkpXVCJ9.eyJpbWFnZSI6Imh0dHBzOi8vYXNzZXRzLnJibC5tcy8yMTIxMjkxMS9vcmlnaW4uanBnIiwiZXhwaXJlc19hdCI6MTYzMjc1MjkzOX0.b1LTIHgF3JObKpZF0o5RBCgQZ4Pw8UpeIJse_nnzUBc/img.jpg?width=980" id="dce06" class="rm-shortcode" data-rm-shortcode-id="122cbedb606a122fc2f547dd9d5e9b55" data-rm-shortcode-name="rebelmouse-image" alt="Katharine McPhee of Scorpion in a blue dress and beaded necklaces in Southeast Asia"> <small class="image-media media-photo-credit"><p>Photography by Cliff Lipson</p></small> Who wouldn't want to sail away with this beauty?<br> <br> Photography by Cliff Lipson. Originally published in <em>Watch!</em> Magazine, June 2016. </div> <div class="rebellt-item col1" id="rebelltitem15" data-id="15" data-reload-ads="false" data-is-image="True" data-href="https://cbswatchmagazine.com/travel/scorpions-katharine-mcphee-and-elyes-gabel-explore-southeast-asia/happy-hour" data-basename="happy-hour" data-post-id="2640874332" data-published-at="1611586473" data-use-pagination="False"> <h3 data-role="headline"> Happy hour </h3> <img type="lazy-image" data-runner-src="https://assets.rebelmouse.io/eyJhbGciOiJIUzI1NiIsInR5cCI6IkpXVCJ9.eyJpbWFnZSI6Imh0dHBzOi8vYXNzZXRzLnJibC5tcy8yMTIxMjkxNC9vcmlnaW4uanBnIiwiZXhwaXJlc19hdCI6MTYxODAzNjc5NX0.aZaUoH-9W2wK8VZ59zuFCUcalqKvWKl2Qk5UiMzQGSk/img.jpg?width=980" id="69fc6" class="rm-shortcode" data-rm-shortcode-id="8a61b189e22f7457f83205817ce2211e" data-rm-shortcode-name="rebelmouse-image" alt="Elyes Gabel of Scorpion in a brown suit leaning against a bar in Southeast Asia"> <small class="image-media media-photo-credit"><p>Photography by Cliff Lipson</p></small> <p>Elyes takes a break on the top deck.</p><p><br><br></p><p>Photography by Cliff Lipson. Originally published in <em>Watch!</em> Magazine, December 2016.</p> </div> <div class="rebellt-item col1" id="rebelltitem1" data-id="1" data-reload-ads="false" data-is-image="True" data-href="https://cbswatchmagazine.com/travel/scorpions-katharine-mcphee-and-elyes-gabel-explore-southeast-asia/pictures-worth-a-thousand-words" data-basename="pictures-worth-a-thousand-words" data-post-id="2640874332" data-published-at="1611586473" data-use-pagination="False"> <h3 data-role="headline"> Pictures worth a thousand words </h3> <img type="lazy-image" data-runner-src="https://assets.rebelmouse.io/eyJhbGciOiJIUzI1NiIsInR5cCI6IkpXVCJ9.eyJpbWFnZSI6Imh0dHBzOi8vYXNzZXRzLnJibC5tcy8yMTIxMjgyNS9vcmlnaW4uanBnIiwiZXhwaXJlc19hdCI6MTY2MzU5OTM0MH0.4za100AcgnIKsulsEutiObRlKH1zDKq4_Gb65qEzcZA/img.jpg?width=980" id="d4a3b" class="rm-shortcode" data-rm-shortcode-id="0c4070ee09ff2235d90a0811266c6277" data-rm-shortcode-name="rebelmouse-image" alt="Katharine McPhee of Scorpion in a sheer floral dress at a Vietnamese market"> <small class="image-media media-photo-credit"><p>Photography by Cliff Lipson</p></small> <p><br></p><p><br></p><p>Photography by Cliff Lipson. Originally published in <em>Watch!</em> Magazine, June 2016.</p> </div> <div class="incontent-ad" style="height: 250px;" data-pos="InContent"></div><p></p><div class="post-pager js-listicle-pager" data-listicle-style="" data-async_load_parameters="platform=desktop&amp;display_ads=1&amp;settings=%7B%22enter_url%22%3A+false%2C+%22no_post_section%22%3A+false%2C+%22ads_breaks%22%3A+%5B3%2C+3%2C+3%2C+3%2C+3%5D%2C+%22prevent_last_break_repetition%22%3A+false%2C+%22use_numeration%22%3A+false%2C+%22show_columns_on_mobile%22%3A+false%2C+%22ads_order%22%3A+%5B3%5D%2C+%22turn_into_posts%22%3A+false%2C+%22list_breaks%22%3A+null%2C+%22reorder_voting%22%3A+false%2C+%22cooldown_in_seconds%22%3A+null%2C+%22pagination_order%22%3A+%5B%5D%2C+%22source%22%3A+%22post_listicle_settings%22%2C+%22next_post_url%22%3A+null%2C+%22up_down_voting%22%3A+false%2C+%22allow_url_change%22%3A+true%2C+%22numeration_sort%22%3A+-1%2C+%22allow_url_update%22%3A+true%2C+%22use_pagination%22%3A+false%2C+%22body_text_above%22%3A+false%2C+%22use_ads%22%3A+true%2C+%22items_as_posts%22%3A+false%2C+%22multiple_answers%22%3A+false%2C+%22no_redirect%22%3A+true%2C+%22is_guest_voting_allowed%22%3A+true%2C+%22layout_type%22%3A+1%2C+%22voting_extra_fields%22%3A+%7B%7D%7D"> </div>