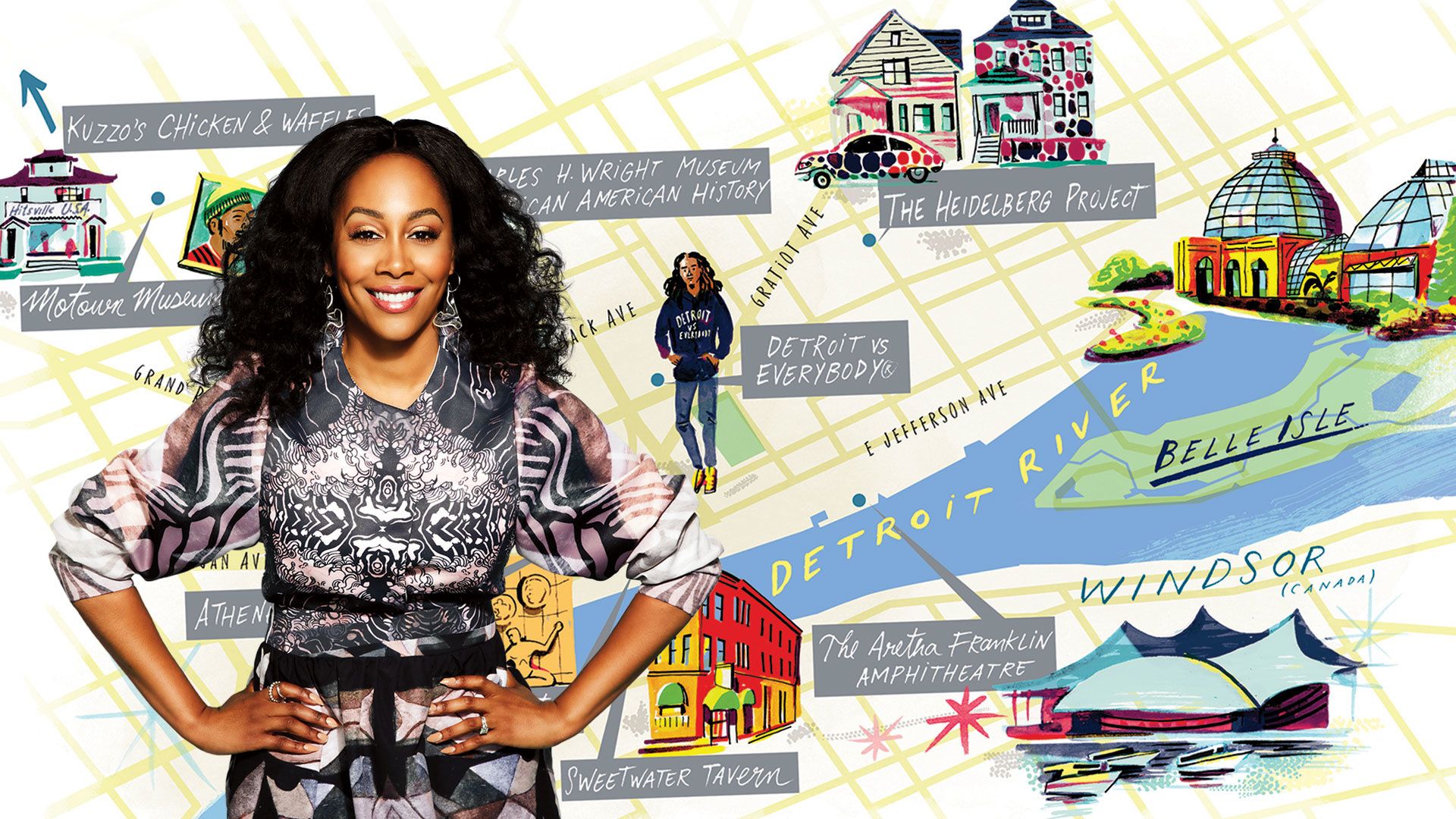 Photo Credits: Sean Waltrous (Missick); Neves & Nina de Camargo (Illustration).
The star of CBS' courtroom drama All Rise makes a case for her hometown hot spots.
By Maria Neuman
Although she was born and raised in the Motor City, by the time Simone Missick was making it big she'd moved most of her family cross-country to the City of Angels. "I think I got most of them to L.A. by 2014—everyone except my sister, who is still holding down the fort in the Detroit area," says the actress who plays Judge Lola Carmichael on All Rise. "She's a woman who had dreamed of being a judge since the fifth grade," says Missick of her character. "It's not your typical legal drama because it's more about the people than the cases, and there's a lot of humor."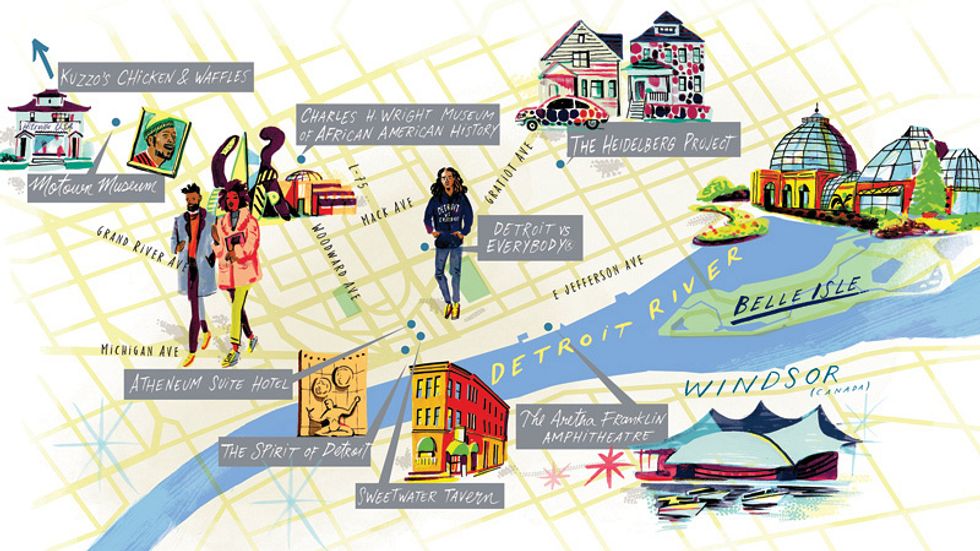 A map of Simone Missick's hometown of Detroit.
Illustration by Neves & Nina de Camargo.
While her home base and work space may now be on the West Coast, Simone Missick returns to Detroit at least once a year. "It's a city that is culturally rich with music and history, but for me Detroit is a love letter to food." Let's eat (and shop and sightsee)!
Originally published in Watch Magazine, September-October 2019.
Stream full episodes of All Rise on CBS and CBS All Access.
Snap A Selfie
Everyone should go downtown and take a photo in front of The Spirit of Detroit. It's a huge, iconic statue, and underneath the sculpture there's a scripture that reads: "Now the Lord is that Spirit: and where the Spirit of the Lord is, there is liberty."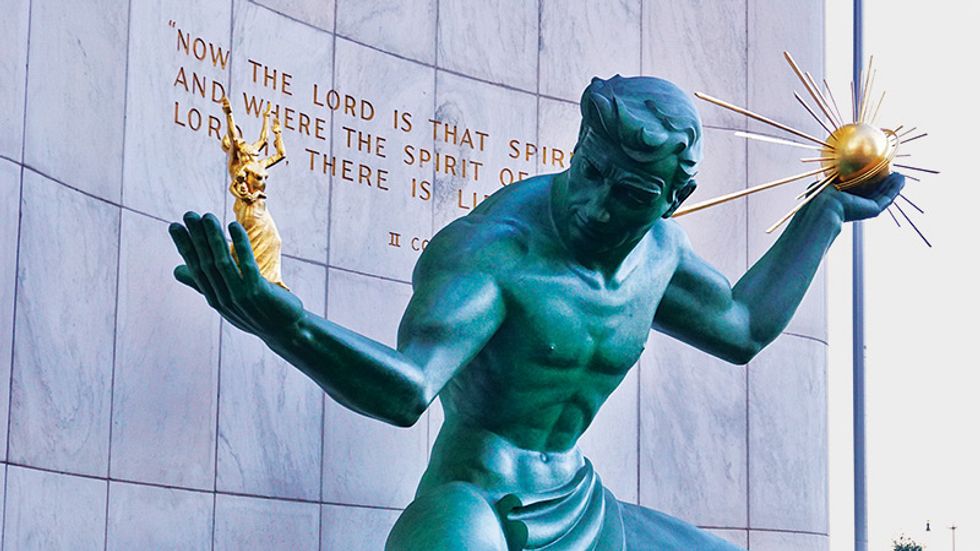 Photo Credit: Douglas Sacha/Getty Images.
Right across from that statue is a memorial to [boxing hero] Joe Louis that is often called The Fist. Practically every car commercial that shoots in Detroit shows that giant bronze fist.
Spend A Day Outside
I used to go to Belle Isle Park from elementary all the way through high school. It's got fountains and a zoo, and if you want to tap into your inner child you can ride down the giant slide. It's 987 acres right in between Michigan and Ontario. You can drive over the bridge or just walk; it's a huge outdoor space in the middle of the city and another great spot to take pictures.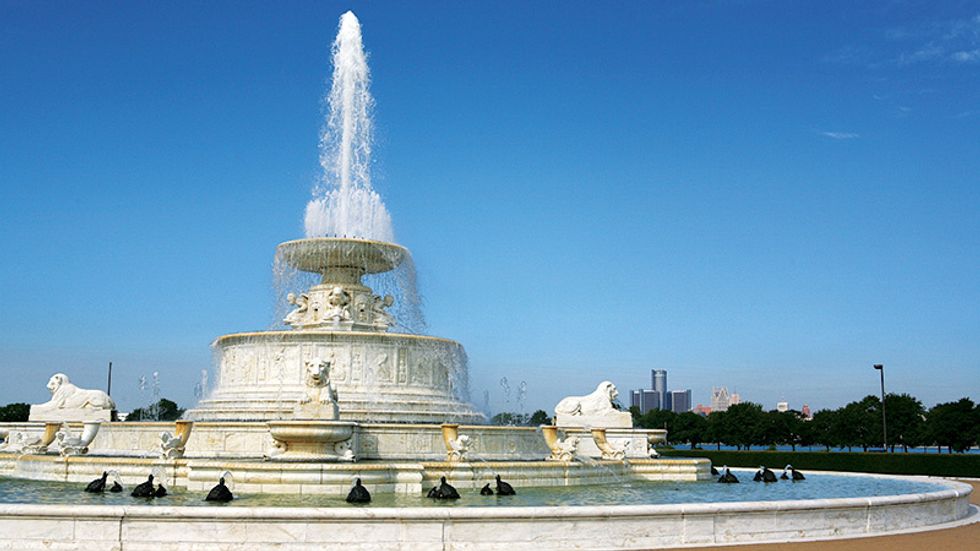 Photo Credit: Bill Bowden.
Rest Up!
The Atheneum Suite Hotel is a gorgeous inn where my friends and I stayed when we went back for a friend's bachelorette party and wedding. It's smack-dab in the middle of the city and has a spectacular mural in the lobby.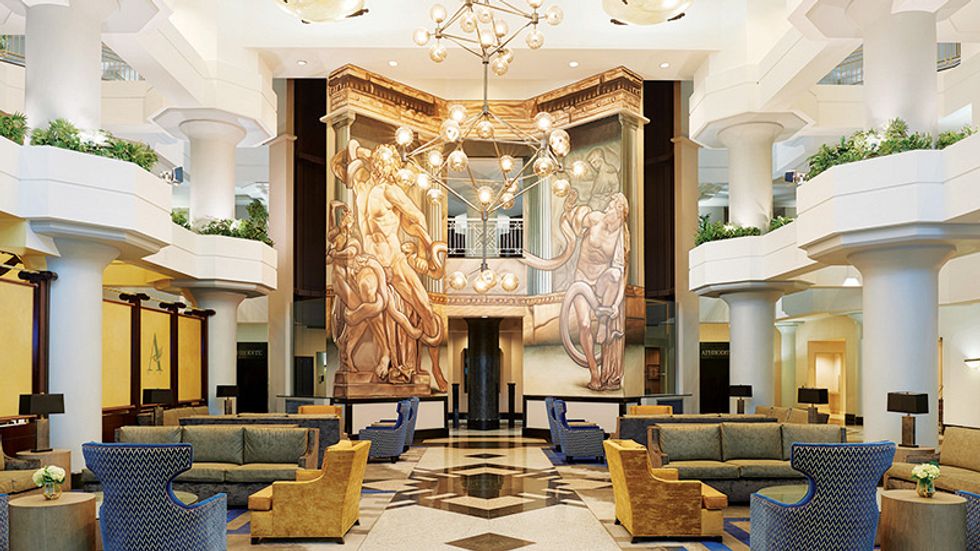 Photo Credit: The Atheneum Suite Hotel.
Pick Up A Souvenir
Personally, I bring back boxes of Detroit's Red Hot Better Made potato chips. But if you want something easier to pack, go to one of the Detroit vs. Everybody stores and get a T-shirt.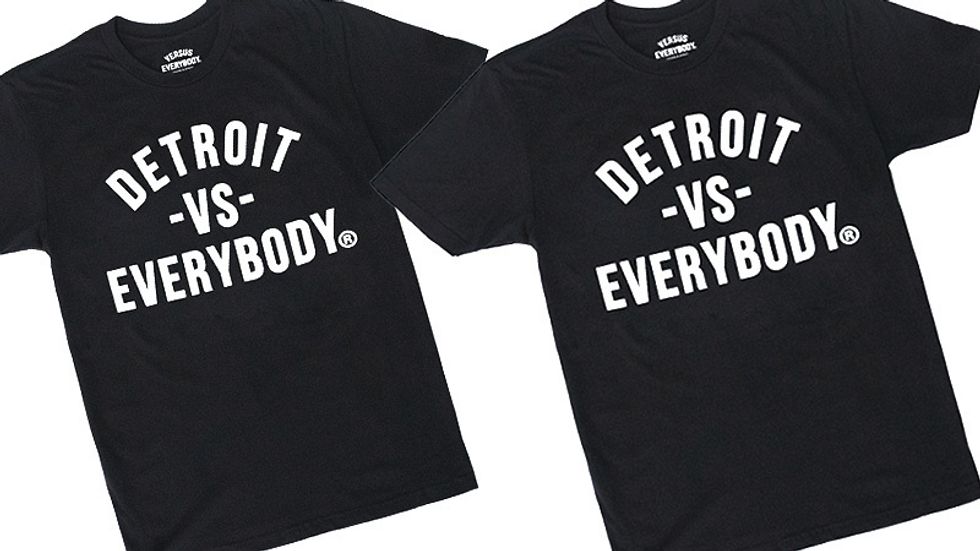 Photo Credit: Detroit Vs. Everybody.
The brand was started by entrepreneur Tommey Walker. He came up with the idea to put the slogan on shirts, but it became immortalized when Eminem, Big Sean, Danny Brown, and a bunch of other rappers released a song by the same name. The "vs. everybody" slogan has now cropped up everywhere from L.A. to Brooklyn, but Detroit was first.
Snack On Southern Comforts
There's a great restaurant called Kuzzo's Chicken & Waffles, which is owned by a guy I went to high school and college with, former NFL player Ron Bartell. The restaurant whips up fried chicken and red velvet waffles, shrimp and grits, and fried green tomatoes.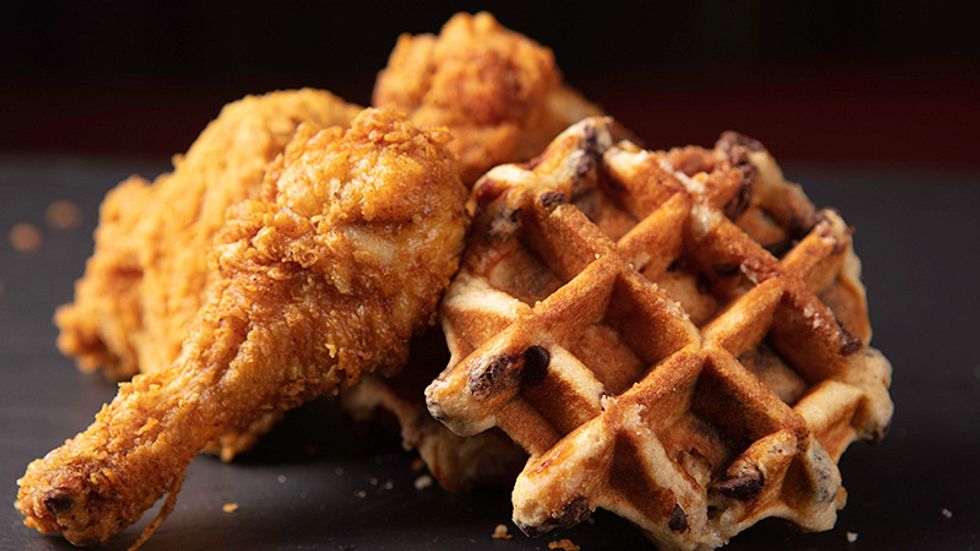 Photo Credit: BlakeDavidTaylor/Getty Images.

It's on a street named Livernois, which is known as the Historic Avenue of Fashion. Back in the day, it was where every Motown star and music exec bought clothes. Now it's making a comeback—shops, art stores, and restaurants.
Visit History
Growing up, I did a lot of community theater and once had the good fortune of doing a play at the Charles H. Wright Museum of African American History. It's a great space located in central Detroit; they do all types of things there, from art displays to community events.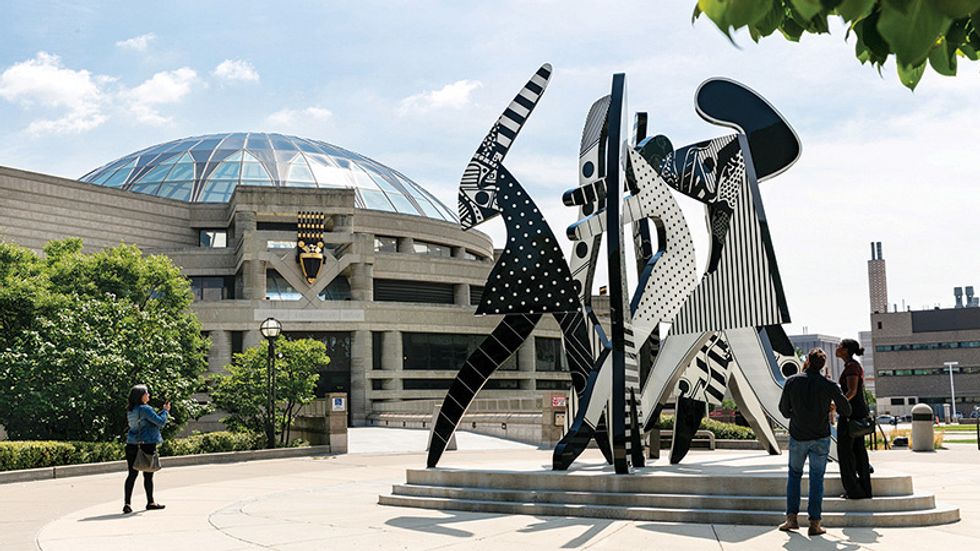 Photo Credit: Michelle and Chris Gerard.
See Outsider Artwork
While there is a new art scene in Detroit, there's also a scene that has been there forever. Visit The Heidelberg Project, created by the artist Tyree Guyton in one of Detroit's forgotten neighborhoods. It's on the east side, where I grew up, and it's a huge outdoor statement on poverty and plight in the city.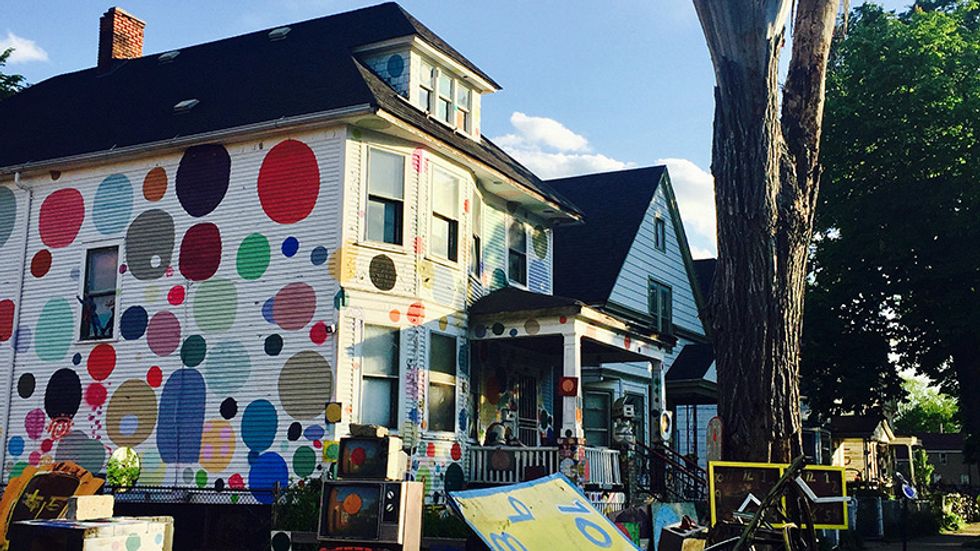 Photo Credit: HP Archive
Sip A Classic Cocktail With Wings
I'm vegan now, but there's this place, Sweetwater Tavern, that has been around forever—I want to say their wings were [named among] the best in the United States. Wings with blue cheese dressing and a gin and tonic cocktail on the side are great.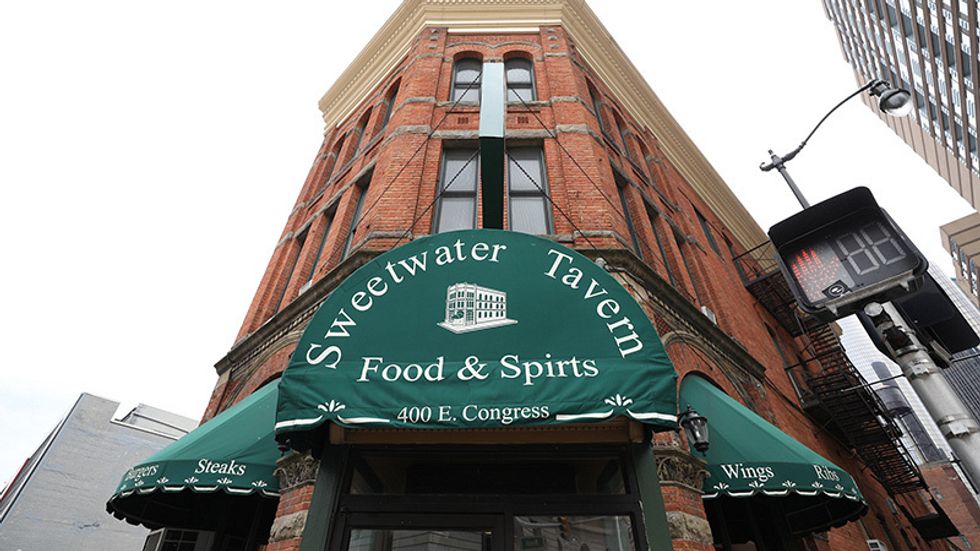 Photo Credit: Sweetwater Tavern.
Hear Some Motown
Visit the Motown Museum, aka "Hitsville U.S.A." It's in the original house where legendary producer Berry Gordy created many recordings with soon-to-be superstars like Marvin Gaye and The Supremes.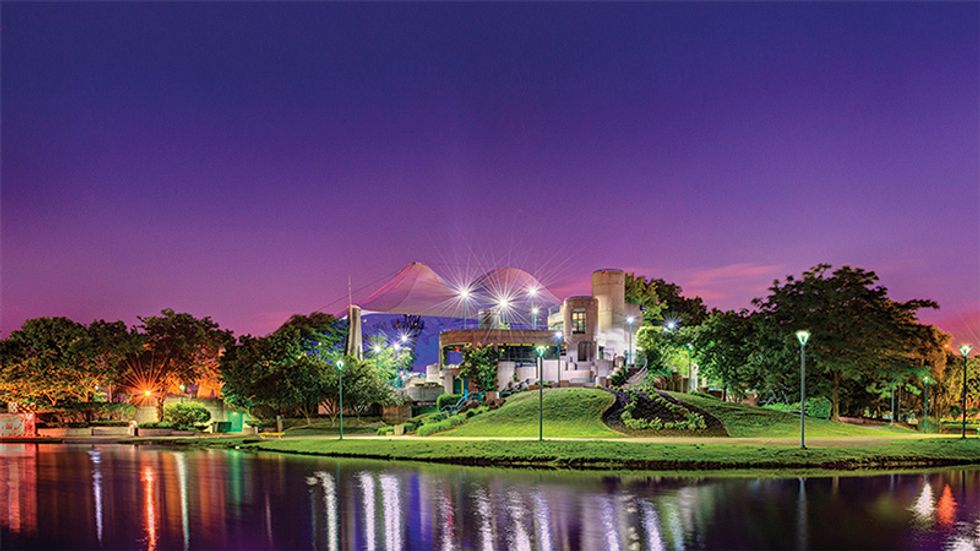 Photo Credit: Curt Clayton.

If you want to hear some live music, there's also the Aretha Franklin Amphitheatre (pictured above). They have outdoor concerts all summer, and if you're sailing by on the Detroit River you can hear the music from your boat.

Originally published in Watch Magazine, September-October 2019.

Stream full episodes of All Rise on CBS and CBS All Access.