By viewing our video content you are accepting the terms of our Video Services Policy.
© 2022 CBS Interactive. All rights reserved.
SUBSCRIBE
What's New
By Marc Berman

If you happen to be a fan of Good Times, you might wonder how Esther Rolle as Florida Evans segued from being Maude Findlay's (Bea Arthur) housekeeper in suburban Tuckahoe in Maude to living in a housing project in inner-city Chicago on Good Times. Then, of course, there was John Amos, who went from Florida's husband Henry on Maude to James in Good Times.
Those cast-evolution questions aside, Good Times was yet another hit for Norman Lear, and the first series centered on an African American family with a loving mother and father present. At the heart of the show was the strong bond shared by the Evans family: Florida and James and their children, James Jr., aka "J.J." (Jimmie Walker); Thelma (Bern Nadette Stanis); and Michael (Ralph Carter). Ja'Net DuBois played Willona Woods, Florida's next-door neighbor and former schoolmate.
SUBSCRIBE NOW: Enjoy 4 Digital Plus 2 Print/Digital Issues Of Watch Per Year — For Free!
A Timely Show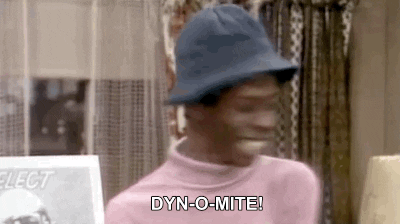 Jimmie Walker as J.J. utters his famous phrase in a scene from Good Times.
Giphy
"The Evans family lived, as marginally as possible, in the Cabrini-Green project in Chicago. James held down three jobs if he had to," said Lear at the time. "Still, we were determined that the family would never go on welfare; they would deal with the reality of their world (gangs, drugs, crime, poverty, etc.), and despite that, the kids would not fail to get an education."
Debuting on February 1, 1974, Good Times was another Top 10 Norman Lear entry by Season 2, destined for a long run on CBS. It was intended to be a timely show focused on a family dealing with serious subjects in a comedic way, but Walker's J.J. became the immediate breakout character (remember his "Dy-No-Mite" catchphrase?), much to the disillusionment of Rolle and Amos. His character wasn't necessarily the type of role model they wanted for the African American community.
Rolle was more public in voicing her concerns, but it was John Amos whom Lear let go by the end of Season 3. In the two-episode fourth season premiere, the Evans family learned of James' passing in a car accident just as they were getting ready to join him in Mississippi, where he had a promising new job.
First Spinoff From a Spinoff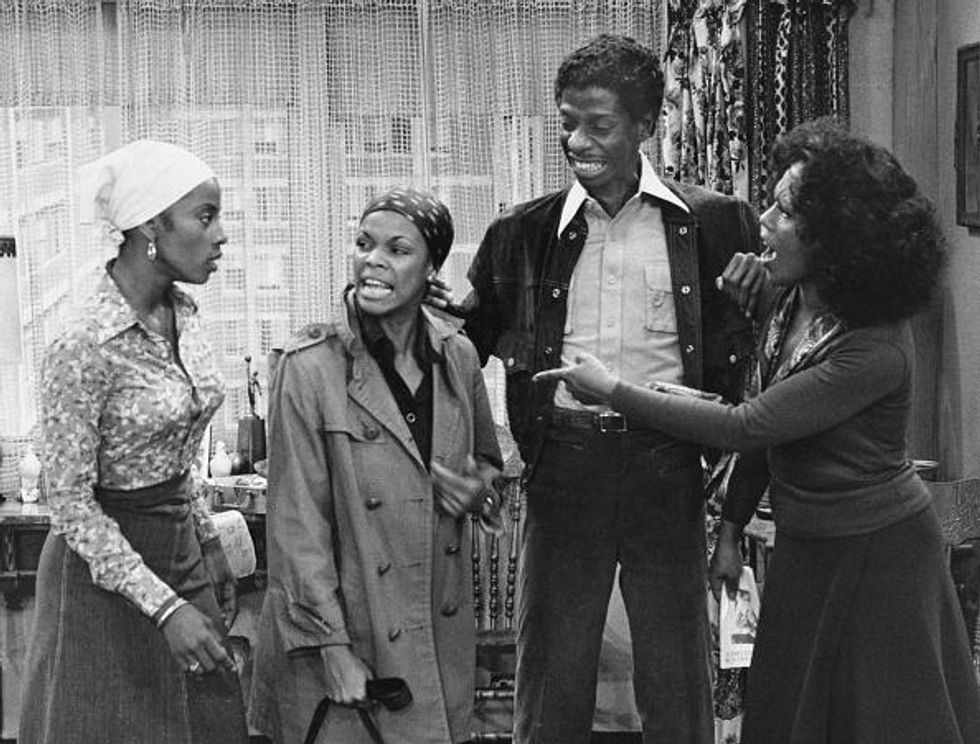 From left: Stanis, Chip Fields, Walker, and Ja'Net Dubois in a scene from Good Times
Photo credit: Bettmann Archive
By Season 5, Rolle had left the series. Viewers learned that Florida and her new husband, Carl (Moses Gunn), had moved to Arizona for the sake of Carl's declining health. Enter then-11-year-old Janet Jackson as Millicent "Penny" Gordon, who the family learned was being abused by her mother and whom Willona eventually adopted. Also more prominently featured was Johnny Brown as Nathan Bookman, the building's superintendent.
For the final season, Esther Rolle as Florida returned (minus second husband Carl, who was never mentioned again), and Thelma married football hopeful Keith Anderson (Ben Powers). At series end, J.J. got an offer from a comic book company, and Keith was offered a new football contract. Florida was asked if she wanted to move in with Keith and Thelma in the fancy apartment building across town where Willona happened to be moving, and Thelma learned she was pregnant. A happy ending for all!
Good Times was the first spinoff from a spinoff: Maude from All in the Family, and Good Times from Maude. And, like The Jeffersons, which launched one year after Good Times, there was a huge disparity in the cast members' ages. At the sitcom's inception, Rolle was 53; Amos was 34—only seven years older than Walker. And while the reported age for Ja'Net DuBois fluctuated by several years, she was quite a bit younger than Rolle.
SUBSCRIBE NOW: Enjoy 4 Digital Plus 2 Print/Digital Issues Of Watch Per Year — For Free!
TV Trivia
Netflix has announced an animated reboot of Good Times from Norman Lear, basketball star Steph Curry, and Family Guy creator Seth MacFarlane. And that leads us to the following trivia question. Historically, which one of the following five comedies did not have an animated spinoff?
A) The Big Bang Theory
B) The Brady Bunch
C) Happy Days
D) I Dream of Jeannie
E) The Partridge Family
ANSWER:The Big Bang Theory. While there have been talks of an animated Sheldon Cooper and company, nothing has been officially announced.
SUBSCRIBE NOW: Enjoy 4 Digital Plus 2 Print/Digital Issues Of Watch Per Year — For Free!
By Marc Berman
Bea Arthur as Edith Bunker's cousin Maude Findlay, an outspoken middle-aged liberal woman, the polar opposite of conservative Archie Bunker, was perfect for Lear's next sitcom after All in the Family.
Originally appearing in the Season 2 All in the Family episode "Cousin Maude's Visit" (December 11, 1971), Arthur made enough of an impact to return in a backdoor pilot in the season-ending episode on March 11, 1972, titled "Maude."
SUBSCRIBE NOW: Enjoy 4 Digital Plus 2 Print/Digital Issues Of Watch Per Year — For Free!
Breaking the Typical TV Heroine Mold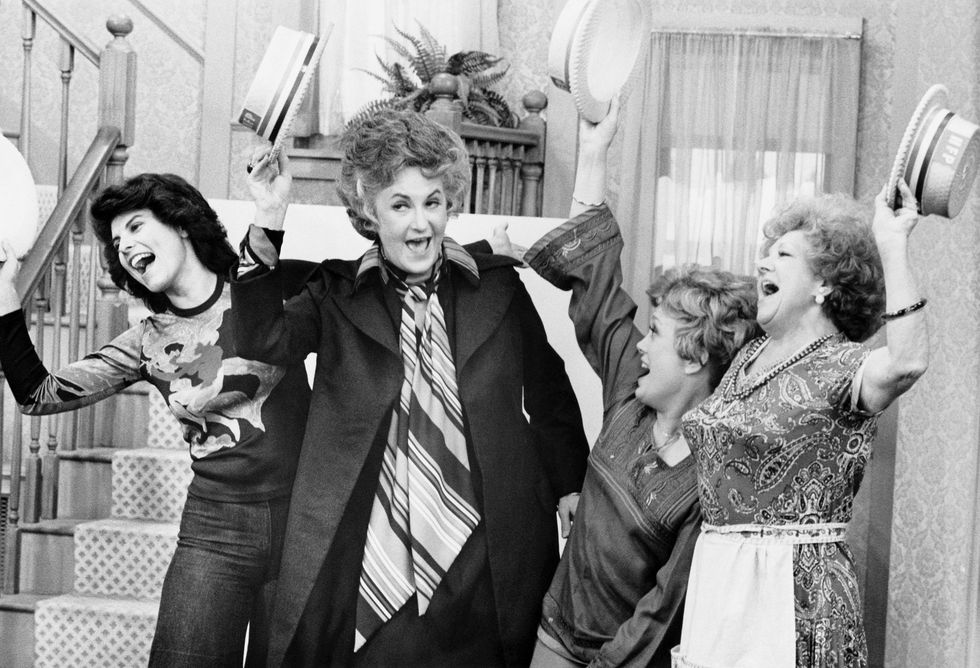 From left: Adrienne Barbeau, Arthur, Rue McClanahan, and Hermione Baddeley
Photo credit: Bettmann Archive
Maude debuted on September 12, 1972. Unlike most new half-hour comedies at the time, it did not have the luxury of proven lead-in support. Yet, as the Tuesday 8 p.m. ET anchor, it managed to end third overall for the first season (behind Norman Lear's All in the Family and Sanford and Son, and the original Hawaii Five-O—all on CBS), according to Nielsen.
Arthur's Maude was a suburban housewife in Tuckahoe, New York, who broke the typical TV heroine mold. While Mary Tyler Moore was "making it on her own" in her beloved eponymous sitcom, Maude was on her fourth husband (Bill Macy as Walter), and she had a grown daughter, Carol (Adrienne Barbeau), and a grandson, Philip (initially Brian Morrison), living with her. Rounding off the cast was Conrad Bain (pre–Diff'rent Strokes) as Arthur Harmon, the Findlays' stuffy, cynical Republican neighbor; Rue McClanahan as Arthur's scatterbrained second wife, Viv; and Esther Rolle as Florida Evans, the first of the Findlays' three different housekeepers.
Never Shy Addressing Serious Issues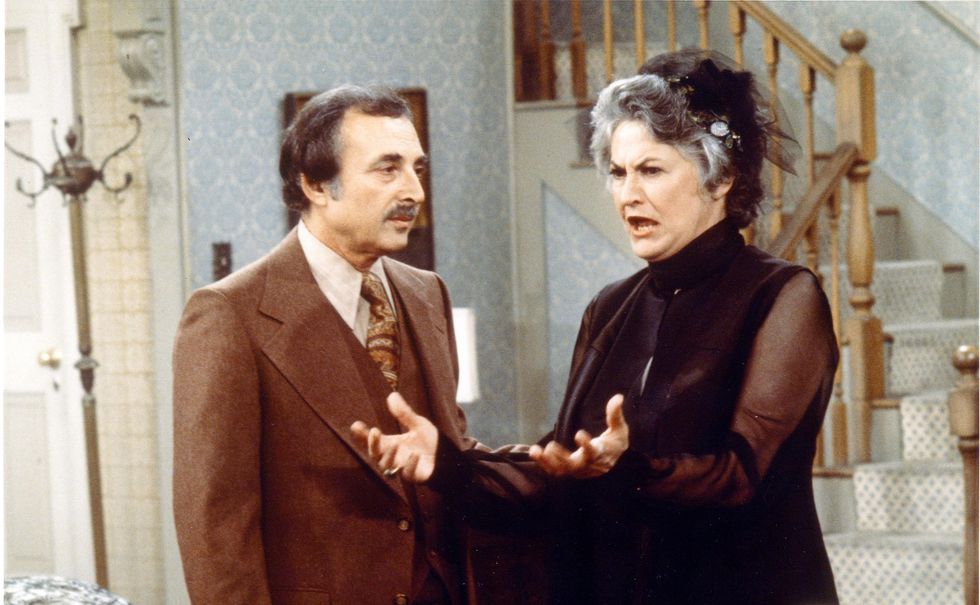 Bill Macy and Arthur as Walter and Maude Findlay
Photo credit: CBS via Getty Images
Mirroring All in the Family, Maude was never shy addressing serious issues such as alcoholism, marijuana, wife swapping, depression, and suicide. In a two-part Season 1 installment, two months before the Roe v. Wade ruling would make abortion legal in the country, Maude's decision to have an abortion resulted in 39 TV stations across the country pre-empting the show.
With ratings beginning to thin out by Season 6, a proposed seventh season had Maude Findlay moving to Washington, D.C., to pursue a career in politics. When Bea Arthur decided to call it quits, the storyline for Maude evolved into the pilot Mr. Dugan, with John Amos replacing Arthur as the lead character. But a negative backlash from a screening for African American members of Congress resulted in CBS pulling the plug and not airing any of the three episodes produced. Lear reworked the premise into Hanging In, with Bill Macy playing a former professional football player turned university president. It aired for four episodes in August 1978.
SUBSCRIBE NOW: Enjoy 4 Digital Plus 2 Print/Digital Issues Of Watch Per Year — For Free!
Factoids About Maude
In addition to Maude, CBS debuted two other long-running comedies in September 1972: M*A*S*H and The Bob Newhart Show. A fourth new comedy, Bridget Loves Bernie, might also have had a long run had it not tackled the then-taboo subject of interfaith marriage.
Martin Balsam, who played Archie Bunker's business partner Murray Klein in the first two seasons of spinoff Archie Bunker's Place, guest-starred as Maude's third husband in the Season 5 episode "Maude and Chester" (September 27, 1976).
Before playing purser Burl "Gopher" Smith on Aaron Spelling's The Love Boat, Fred Grandy appeared in seven episodes as Carol's boyfriend Chris.
Arthur and Rue McClanahan of course reunited for the long-running comedy The Golden Girls. But the first choice to play Vivian on Maude was Doris Roberts. Roberts found later work with Norman Lear on episodes of All in the Family and Mary Hartman, Mary Hartman and in later years on CBS's Everybody Loves Raymond.